We have seen smartphone companies building phones that are more energy efficient and/or offer higher capacity battery cells and/or superfast charging capabilities but Kyocera is looking at mobile energy use from a different perspective. Last year, at MWC 2015, the firm teased a smartphone which had a screen that could power the device using solar energy. This year it has improved upon the concept and the latest Kyocera solar powered smartphone charges more quickly by solar, improves the photovoltaic layer transparency and lets you easily see if the available light is actually providing any juice at any time.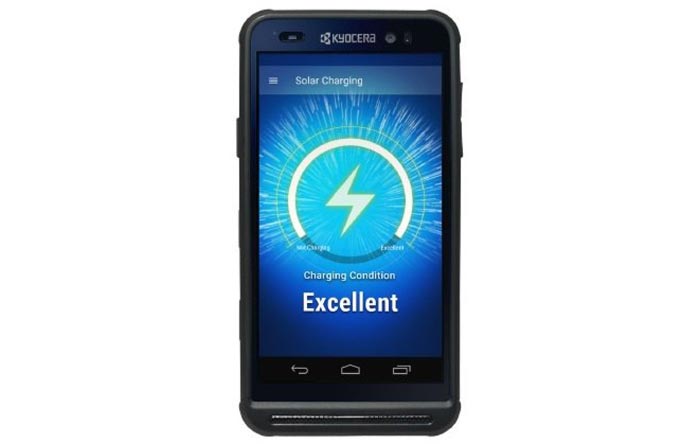 Like last year's prototype, the new 5-inch Kyocera smartphone has a photovoltaic layer integrated into the touchscreen. This means you won't have to, unnaturally, leave your smartphone face-down for it to charge up. As Gizmag reports, Kyocera is working with the same tech partner for the solar powered device, Sunpartner Technologies.
The previous solar powered smartphone prototype from Kyocera managed to provide two minutes of talk time from ten minutes of sunbathing, that has been improved to one minute of talk time for three minutes in the sun. If talk time isn't a useful metric for you, the charging-time to web-browsing-time ratio should be even better, according to Kyocera representatives at MWC.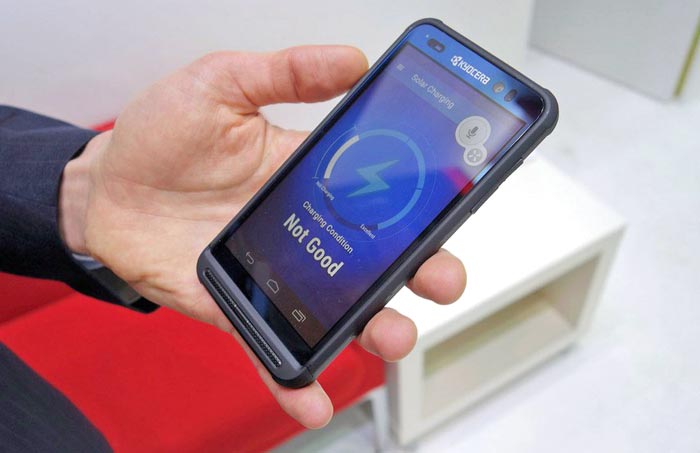 It is reported that the new device has a handy indicator app which makes users aware of the charging conditions, so you will know if your smartphone is receiving 'excellent' solar energy all the way down to 'not charging'. You can see in the photo above, the indoor lighting was 'not good'.
Finally, Kyocera hasn't indicated it has plans to release this new solar powered smartphone but has said that the solar tech should start appearing in consumer phones in the near future. Such a backup power source could definitely enhance its Bear Grylls endorsed Kyocera Torque, a ruggedized 4G Android phone that we saw launched a couple of years back.