Razer HyperFlux Wireless Power Technology
Today at the CES 2018 Razer announced a completely new mousing experience; free of wires and free of heavy batteries. The hardware is based around Razer's new HyperFlux technology. Using magnetic fields the Razer Mamba HyperFlux (mouse) is powered wirelessly on its travels by the Razer Firefly HyperFlux (mouse mat).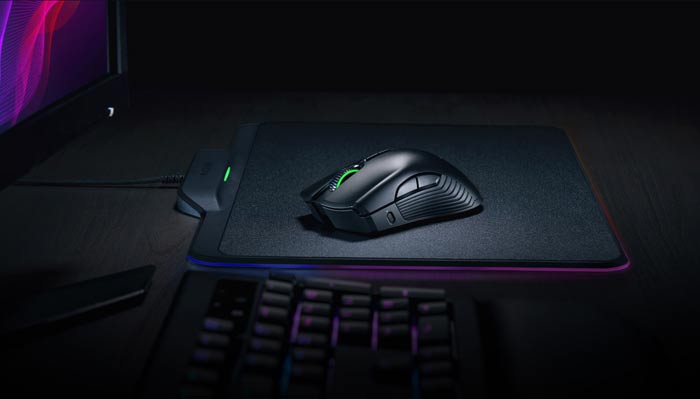 "While other companies have attempted to do wireless charging for mice, they have been unable to achieve true wireless power as their mice still need a battery to be charged. HyperFlux Wireless Power Technology is a game changer in the world of wireless gaming," said Min-Liang Tan, Razer co-founder and CEO. "Gamers are no longer held at the mercy of a battery or cable. Instead, there will be true wireless freedom with a cordless gaming mouse that's the same weight as a wired mouse."
With the power tech out of the way and discussed above, let's move on to the qualities of the Razer Mamba HyperFlux mouse. The mouse is based around a 16,000 DPI 5G optical sensor which can register up to 450 inches per second (IPS) / 50 G acceleration. Razer mechanical mouse buttons are equipped for left and right main switches, there's a gaming grade scroll wheel, and nine further independently programmable Hyperesponse buttons are present. Wireless connectivity uses Adaptive Frequency Technology, and it is 1000Hz Ultrapolling capable, according to Razer.
Razer's Mamba HyperFlux measures 124.7 x 70.1 x 43.2 mm and weighs 96g. The cable, for use in wired mode is 2.1m long. Razer's Firefly HyperFlux has two (hard/cloth) mousing surfaces designed for responsive tracking. This powered mouse mat measures 355 x 282.5 x 12.9mm and weighs 643g. Again it comes with a 2.1m cable. Both parts of the combo have RGB LEDs and Razer Synapse control.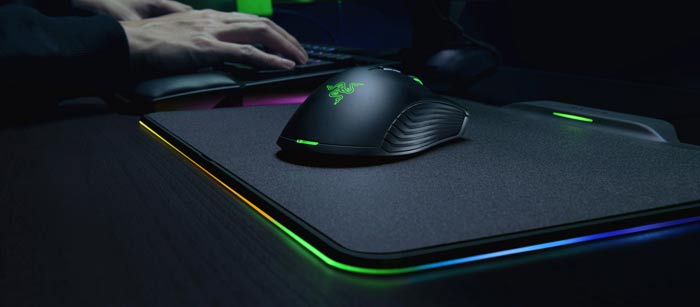 The Razer HyperFlux wireless hardware combo is available on RazerStore.com and select retailers in Q1 2018, priced at $249.99 / € 279.99.
Razer Nommo speaker range
The final piece of product news we have from Razer today is of a new speaker range, the Razer Nommo, Nommo Chroma and Nommo Pro. Razer says these speaker systems were designed to help aid gamers with sensing environmental factors – aspects like accurate positional audio can often be important in games.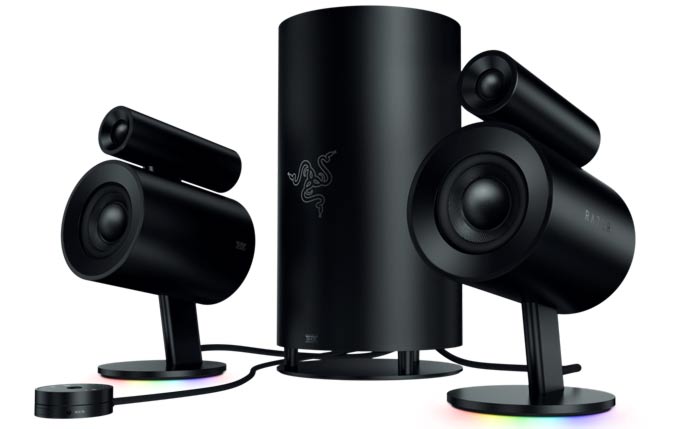 In the THX Certified Dolby Nommo Pro (pictured above), Virtual Speaker technology provides an added layer of immersion with simulated 5.1 surround sound. "Dupont Kevlar coated drivers project solid mids, while independent silk-woven tweeters per satellite produce smooth and balanced highs… a cylindrical downward firing subwoofer promotes airflow for consistent, deep tones," Razer says, explaining the wide ranging sound on offer. The Nommo Pro is equipped with Razer Chroma LED lighting and offers USB, Optical, Bluetooth and 3.5-millimeter jack connectivity.
Razer's Nommo is a simpler 2.0 setup (no tweeters or sub). Audio reproduction is based upon custom woven glass fibre 3-inch drivers. To help this system with bass response Razer has equipped a dedicated bass control with Automatic Gain Control. Razer makes another version of the basic Nommo with Razer Chroma lighting and a built-in DAC (USB connectivity) for those that feel such a need.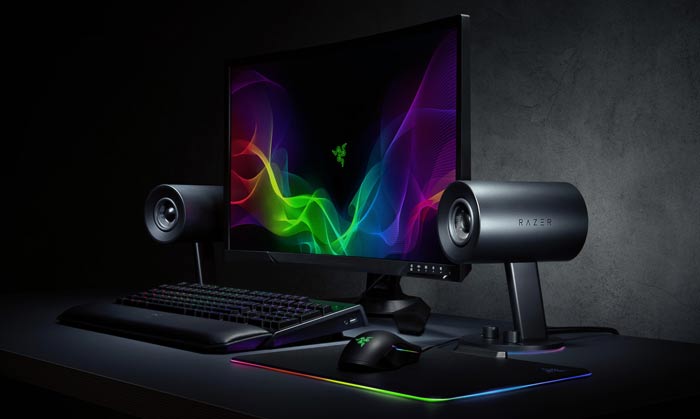 For the Chroma products Razer Synapse 3 not only controls the lighting but sound settings like EQ and volumes. Additionally there's a dedicated Nommo Pro mobile app available on Android and iOS.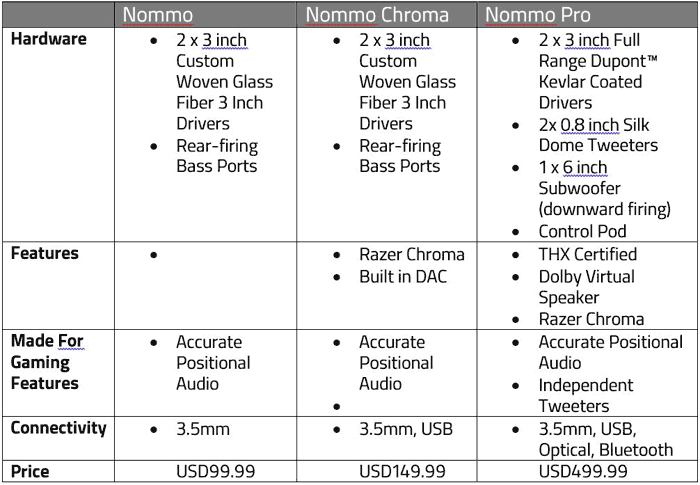 Above you can see a product and price matrix for the Razer Nommo line, the Euro prices for the Nommo, Nommo Chroma and Nommo Pro are €109.99, €169.99 and €579.99 respectively. You can buy the Nommo and Nommo Chroma speaker sets right away on Razerzone.com.