We reported about the future commercial uses of Quantum Dots (QDs) in March last year here on HEXUS. Now we have news that Sony will be the first TV manufacturer to make screens using the new technology for precise backlighting tasks. QD displays can reproduce a much higher gamut of colours on a display, as much as 50 per cent more, reports The Verge. More colours will display images as more lifelike and appealing to the human eye, as current monitors and TVs show a relatively small range of colours (gamut) compared to what can be perceived. Check the diagram below.

Eye, camera, scanner, CRT, desktop printer, press
QD Vision of Massachusetts is the chosen supplier for Sony's Triluminos branded screens says science journal Nature. The journal reports that the demand for these quantum dots could help boost the quantum dot companies' fortunes and the UK quantum dot manufacturer Nanoco should also benefit if these displays take off.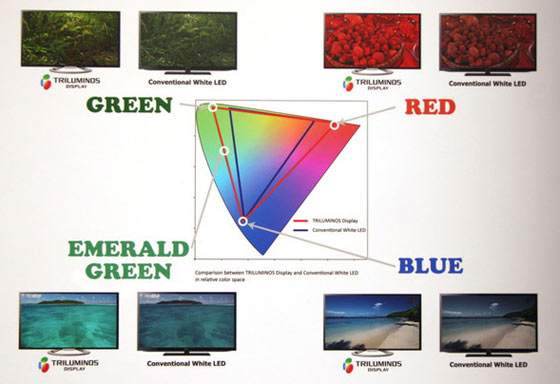 Enhanced gamut of the Triluminos display
Let's look again at the benefits of QD displays over OLED displays as I outlined in the last QD article.
Better colour purity: the colour produced by QDs is a considerable improvement over competing OLED technologies, which provides for an improved viewing experience for the end user.
Added flexibility: QDs are soluble in both aqueous and non-aqueous solvents, which provides for printable and flexible displays of all sizes, including large-area TVs (QD TV™)
Improved lifetime: QDs are inorganic; as such they offer the potential for improved lifetimes when compared to alternative OLED technologies.
The writer on Gizmodo thinks that the benefits may offer improvements "that the everyday viewer doesn't really appreciate" but hasn't seen the Sony Triluminos TV in person. I'm sure this screen technology will at least be useful to print and photography professionals.
SmallHD OLED on-camera monitor; the "richest, most accurate" OLED display yet
A new enhanced OLED system made by SmallHD has been made using OLED technology. It's interesting to see this new display coinciding with Sony's news. The SmallHD website does a very good job of describing and illustrating the advantages of its enhanced gamut displays for professional photographers. The company advertises its new camera monitor as being able to "actually see the colours your HD camera is capturing". Learn more about its offering here. I wonder if Sony's new Triluminos displays trump the SmallHD OLED and by how much. Sadly the three charts on this page are from various sources and not directly comparible.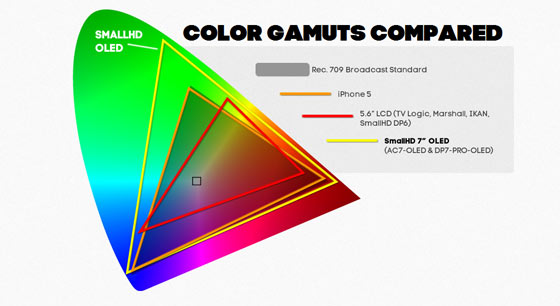 SmallHD but beautifully formed