It's probably fair to say that Windows 7 hasn't heralded the touchscreen revolution many were optimistically predicting, but it has opened the door for users to try an alternative to the trusty keyboard and mouse.
And, if you're eager to let your fingers become your mouse, Acer has just the solution in the form of its T231H LCD monitor.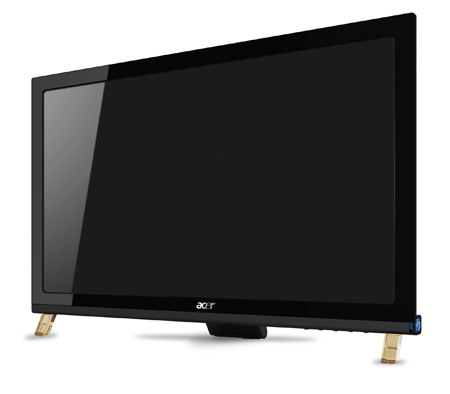 Arriving as an alternative to last year's multi-touch T230H, the new model, pictured above, features an "advanced ergonomic design" that Acer reckons will provide "maximum comfort even during sustained use".
Equipped with a unique stand, the angle of the T231H can be easily tilted from 5° to 60° using one hand. We're not entirely sure how that makes reaching out to touch the screen any more comfortable, but it might be useful if you're standing and looking down at your display, perhaps?
Elsewhere, the panel in the T231H seems identical to the T230H, offering a full-HD 1,920x1,080 resolution, a 2ms response time and a quoted dynamic contrast ratio of 80,000:1.
There's a choice of VGA, DVI and HDMI inputs, and the monitor should be making its way to stores right about now priced at £319.99.