Acer has just wrapped up its global press conference at IFA 2015. The famous Taiwanese PC maker showed off quite a wide range of devices including new laptops and desktops and PC accessories. What really caught my attention though were its announcement and demonstration of the "pocket PC" Acer Jade Primo smartphone and the expansion of its Predator range to include the Predator Projector, which projects a 120-inch display. Another interesting new product I will describe briefly is the modular Acer Revo Build which offers GPU expansion possibilities.
Acer Jade Primo
I've embedded the full Acer press conference video above. You can see the section concerning the Acer Jade Primo from 38 minutes onwards. Acer referred to the Jade Primo as "a PC in your pocket". CEO Jason Chen said that he had been "hearing about the PC Phone for over 10 years" yet this is the first time he's felt that the concept actually works.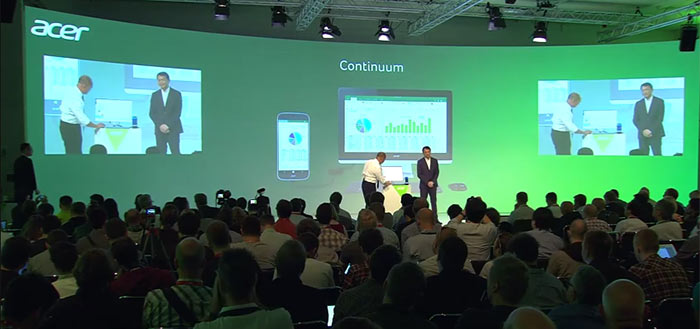 The smartphone uses Microsoft's Windows 10 Continuum feature to allow you to use it as a smartphone on the move and as a computer at the desk. In terms of hardware the following components were mentioned; a 21MP camera with dual flash and 8MP front facing camera, a Qualcomm 808 Snapdragon SoC, a Super AMOLED 5.5-inch display, designed using the Acer Jade design language. Buyers will receive a complementary docking station, wireless mouse, and keyboard.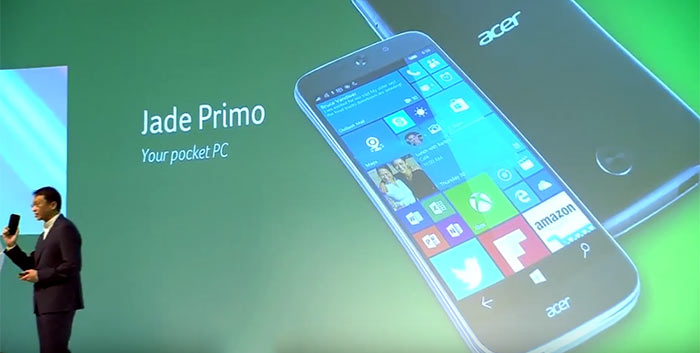 Acer Predator range
Acer has published a range of dedicated videos for a number of new Predator gaming products including the following: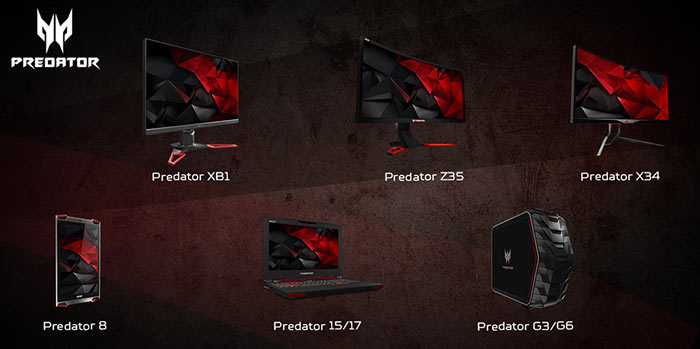 However it's missed out one of the most interesting new announcements: that of the Predator Projector. In the complete press conference video at the top of this page the Predator announcements start from 42 minutes onwards, directly after the Jade Primo news. To see the Predator Projector news please skip to 56 minutes and 30 seconds.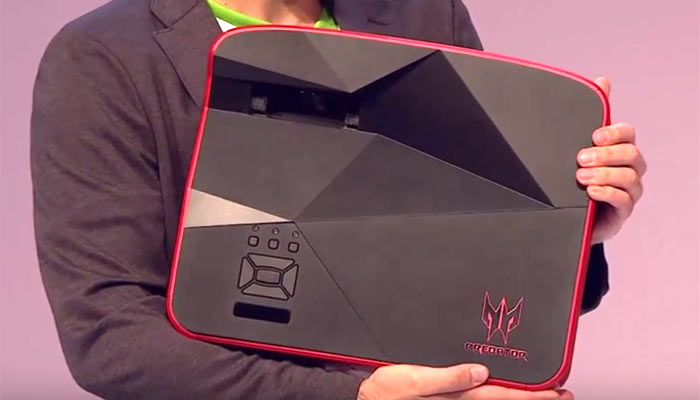 This cleverly designed gaming laser projector only needs to be 50cm from the wall upon to which it projects a 120-inch image. We were told that it can support an ultra-wide gaming screen format but other features were kept under wraps for now.
Acer Revo Build
Acer also showed off the modular Revo Build which is like a NUC with a range of stacked magnetic expansion components. You can see this in the main video from 29 mins and 45 seconds onwards.
In the presentation we weren't told much about the 125mm square Revo Build, only that it was a Modular PC which could be expanded with easy stackable magnetically connected blocks. You can see in the main slide, below, that complementing the main PC block Acer has designed a voice block (for sound, with integrated volume knob), a storage block, a power block with wireless charging and an intriguing graphics block which we expect to contain some kind of more powerful GPU.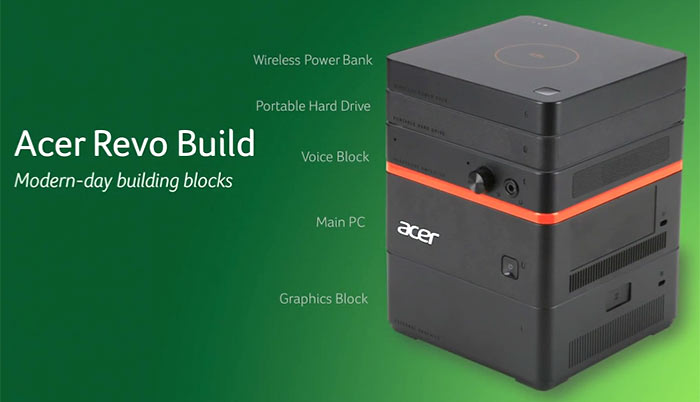 If you don't want to top off your system with the wireless power block Acer provides a simple blanking plate for the top. The Revo Build will be priced from 199 Euros, starting from October.