Sony has announced some sleek summer 2013 additions to its VAIO computer series. It showed a laptop convertible slider system called the VAIO Duo 13 and a new Ultrabook called the VAIO Pro 13 / VAIO Pro 11 (dependent upon the screen size). Sony has leveraged its complimentary imaging, display and sound technologies to its advantage within these new computer products.
"Our aim with these unique new models is to provide customers with a variety of new ways to use their PCs. We have achieved this by combining powerful Sony technologies with new form factors," said Ryosuke Akahane, SVP and President of VAIO & Mobile Business Group, "We're aiming to make devices that will enhance and enrich individuals' lifestyles in both work and play". He gave an example of using the VAIO Duo 13's camera to scan and OCR documents for archiving, editing and searching.
VAIO Duo 13 slider hybrid
This new convertible works in either laptop or slate mode and favours different input methods depending upon its mode. Sony says "The convenience of slate mode, combined with the efficiency of keyboard mode, creates a greatly improved PC experience". Impressively this 13-inch screen equipped slider has a battery life of 15 hours, based on MobileMark® 2007.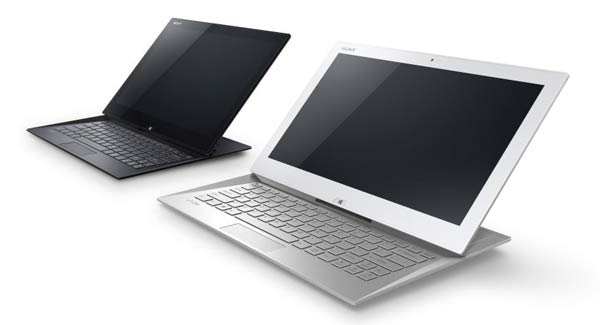 Sony also wanted to highlight the built-in 8MP 'Exmor RS for PC' camera which provides images good enough for portable document management; OCR etc. Sony provide software called 'CamScanner' for this purpose.
The stylus provided with the VAIO Duo 13 uses 'OptiContrast' technology for "a more accurate and natural writing experience". Sony provides a memo app called 'Note Anytime for VAIO' to compliment this functionality.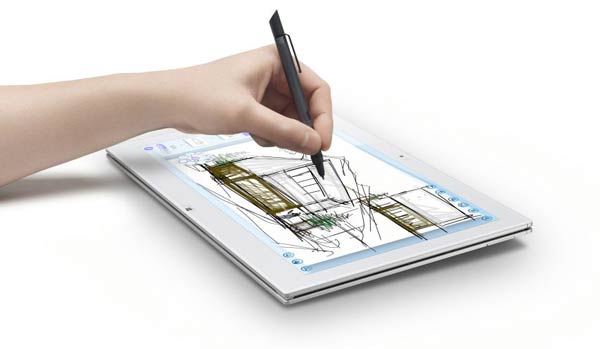 The VAIO Duo screen is a full HD display which uses Sony BRAVIA TRILUMINOS technology for better colour accuracy. Sony has also built in its ClearAudio+ sound into this convertible computer.
VAIO Pro 13/11 Ultrabook
Sony says these are the lightest touch-capable Ultrabooks on the market in their respective sizes. This lightness is achieved in part due to the carbon fibre construction. The 11-incher weighs in at just 870g while the 13-inch version is just 1060g. Despite their size and slimness Sony says it has built-in a comfortable keyboard with "a wide key pitch and stroke to allow for an extremely natural typing experience". That sounds great for mobile workers.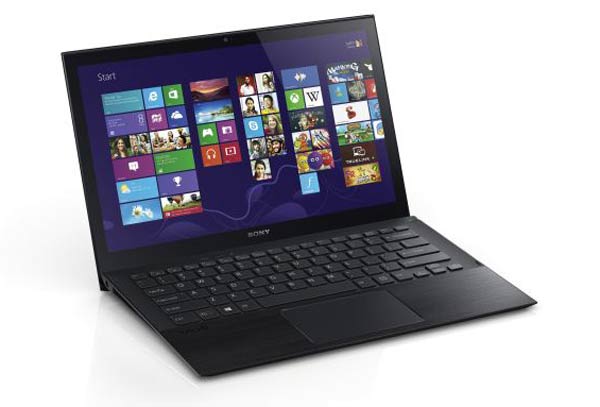 Again this new VAIO utilises Sony patented technologies to differentiate itself in a crowded market. The 1080p screens used in both these Ultrabooks use Sony BRAVIA TRILUMINOS technology for better colour accuracy. Again sound is enhanced by Sony's ClearAudio+.
The Verge already has had a hands-on review of the new Sony VAIO Pro in both 13-inch and 11-inch screen sizes. The reviewer compared them, often, to the MacBook Air. Overall the weight and portability of Sony's new Ultrabooks impressed as did the "great display" and "fantastic battery life" but the flex of the construction and "finicky" trackpad let them down. In his summing up the Verge reviewer, David Pierce, said the 13-inch model was the better of the two as it had a better screen, better performance, seemed more rigid and is thin and light and portable enough for anyone already.