Netbooks have rarely hit the headlines since their introductory years and now, with their sales figures reaching new lows, we may see less and less of them. Toshiba isn't impressed by the negative trend and has decided to drop the format entirely in the USA according to Liliputing, who talked to a Toshiba exec. Instead Toshiba will be focusing on Ultrabooks, with their similar thin and light form factor but possessing much better performance – but at more than double the price of a netbook.
Toshiba might be said to have invented the netbook with their diminutive range of Libretto sub-notebooks from the mid 1990s but the form factor really took off in 2007/8 when the ASUS Eee PC models, based on the thrifty new Intel Atom processor, became big sellers.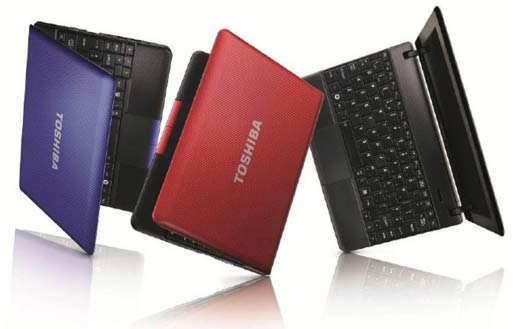 These new Toshiba NB510 Cedar Trail machines won't be released in the US
With the nosedive in popularity, down 34 per cent from this time last year, and competitive budget range prices it's not surprising some bigger name brands aren't so keen on netbooks any more. However the previous popularity of netbooks showed the industry the pent up demand for portable net connected devices with good battery life and a competitive, accessible price. Definitely though, in the last couple of years a lot of portable computing is done on smartphones and tablets which have eaten into and taken over on-the-go netbook functionality to a large degree.
Other PC makers have already pulled out of releasing netbooks in the US. Dell and Lenovo won't be releasing any more and so far this year there have been no new models in the US from Sony or Samsung.
I had a netbook from 2008 until a few months ago and used it a lot; it was easy to shove in a bag, had good battery life of about 5 hours and ran the same OS as on my desktop machine. But it started to feel very slow and I didn't replace it with another netbook because, even 4 years later, newer models didn't seem to offer anything more. Is the end of the netbook in sight or will it rise again?