Toshiba's first shot at a Tegra 2-powered Android tablet may have been a bit of a dud - having lasted only a few weeks before being yanked from PC World's shelves - but that doesn't mean that the electronics-giant is giving up. A new site has just launched teasing an all new slate that will hopefully right the wrongs of its predecessor.
What we know so far is that the 10in tab will feature a 1280x800px capacitive multitouch screen and be powered by NVIDIA's dual-core Tegra 2 silicon running Android 3.0 (Honeycomb). There'll also be a 5MP camera at the back, a 2MP shooter on the front for video-chatting, HDMI out, USB in and out and an SD slot.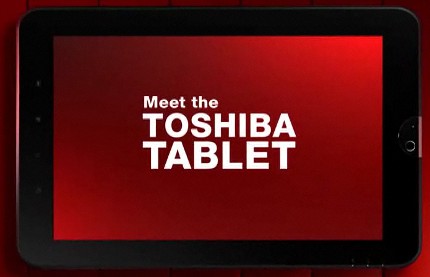 Connectivity will be limited to WiFi and Bluetooth, but on the upside there is a user-replaceable battery for 'screwdriver-savvy people'.
The tablet - which doesn't seem to have a name yet - will be launching 'this spring', which probably means that it'll trail Motorola's similarly-specced Xoom by a couple of months. While Tosh might have a tough time besting the finely tuned Xoom - which will be the flagship 'Google Experience Device' - it may be able to offer a similar experience at a presumably lower price. This is assuming that the manufacturer can exorcise the demons that haunted the Folio 100, that is.
Although further details are scarce, you can go and check out the teaser site now - unless you're browsing on an iDevice, that is. Toshiba has helpfully reminded us that certain platforms can't browse the 'entire internet'.