This week's 'Back to Mac' event is believed to be focused around the next major release of OS X, but the stage could also be set for the launch of two new hardware products.
AppleInsider, citing "a person with a proven track record of pinpoint accuracy", claims Apple will use the event to introduce new 11.6in and 13.3in variants of the MacBook Air.
The ultra-slim notebook, first launched in January 2008, has wowed audiences with its sleek profile and aluminium unibody design, but has largely failed to attract buyers as a result of modest internal hardware and prices in excess of £1,000.
According to AppleInsider's source, the new 11.6in model will compliment the 13.3in system "as a more aggressively-priced option".
Whether or not the MacBook Air's ageing Core 2 Duo processor will be upgraded in favour of Core 2010 parts remains unknown, but technology blog Engadget has received an image of what's believed to be a prototype of the new 13.3in model.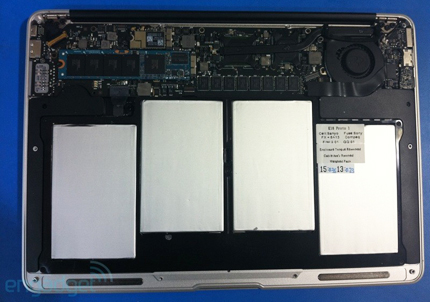 Although the image is said to depict a prototype dating back to April 2010, it does reveal a number of potential design alterations.
First and foremost, the revised system doesn't feature a traditional hard disk. Instead, Apple appears to be utilising a narrow PCB equipped with memory chips of an unknown size - a makeshift SSD of sorts. The design should help make the MacBook Air thinner than ever, and it paves the way for greater battery life - the above image shows four built-in battery cells.
All signs point to a closed unibody system that won't facilitate end-user upgrades, but there could be a better selection of ports and connectivity options. The image suggests that two USB ports will be provided - as opposed to just one on the current MacBook Air - as well as mini DisplayPort, an SD card reader and the standard MagSafe power adaptor.
The new MacBook Air is tipped to be on show at Apple's Back to Mac event this Wednesday, October 20th.