We might have liked MSI's Wind netbook, but the price on many of these ultra-portable devices is still a little too high for most, and infringes on full-size laptop territory.
Well than, take a look at this cheap-as-chips solution from JoinTech. It's called the J-Pro Mini Laptop, and it has two distinct features; a super-low pricetag of $99 and a super-low-end specification.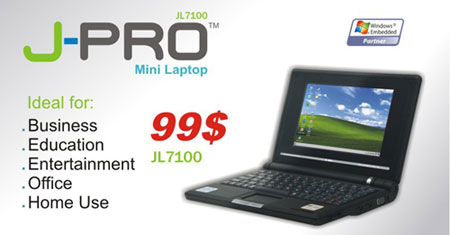 The machine features a Samsung chipset, and runs Windows CE 5.0 as its operating system. There's just 64MiB of RAM, and a ridiculously low 64MiB of storage, though, that can be extended by an external USB stick.
The J-Pro's 7in screen offers a simple 800x480 resolution and the device will be available in black, pink, white and blue colours.
It's far too low-powered for most purposes, but what do you expect for $99? We think we'll keep waiting for Eee and Wind prices to drop.
Official product page: JoinTech.com