0.16-inches at its thinnest point!
Steve Jobs was literally giddy as he pulled this one out of a manila envelope. Yes, it's so thin, it fits in an envelope.
This little beauty of a laptop has a height of 0.76" at its thickest point and that narrows down to a tiny 0.16" at its thinnest point. Seriously, seriously, thin.
What's more, the MacBook Air doesn't completely sacrifice everything in order to achieve this height. Yes, there are sacrifices of course, but the specification isn't all that bad:
13.3-inch LED-backlit glossy widescreen display with 1280x800 resolution
1.6 GHz Intel Core 2 Duo processor with 4MB L2 cache
800 MHz front-side bus
2GB of 667 MHz DDR2 SDRAM
80GB hard disk drive with Sudden Motion Sensor
Intel Graphics Media Accelerator X3100
Micro-DVI port (includes Micro-DVI to VGA and Micro-DVI to DVI Adapters)
built-in iSight video camera
built-in AirPort Extreme 802.11n wireless networking and Bluetooth 2.1+EDR
one USB 2.0 port
one headphone port
multi-touch TrackPad with support for advanced multi-touch gestures including tap, scroll, pinch, rotate and swipe
45 Watt MagSafe Power Adapter
"We've built the world's thinnest notebook - without sacrificing a full-size keyboard or a full-size 13-inch display," said Jobs. "When you first see MacBook Air, it's hard to believe it's a high-performance notebook with a full-size keyboard and display. But it is."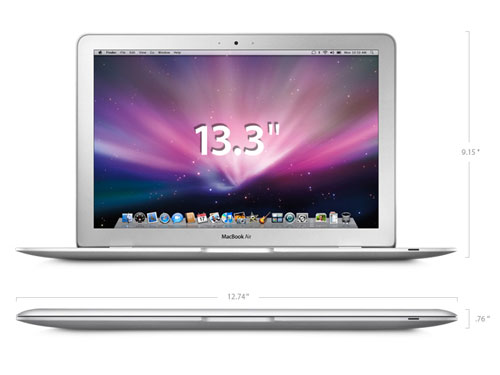 So, what does the device sacrifice and how exactly did they squeeze everything from a backlit keyboard to a multi-touch trackpad into such a small form factor? Well, in terms of getting the MacBook down to size, Apple approached Intel and basically told them they needed a very small Core 2 Duo. Intel, always up for a challenge it would seem, came back with a Core 2 Duo processor some 60% smaller than the desktop design. Impressive. In terms of storage, Apple are using the 1.8" hard drive found in iPods, or an optional 64GB SSD drive.
In terms of sacrifice, there are two big admissions. Firstly, the MacBook Air comes with no DVD drive. Sounds scary we know, but Apple do have alternatives. There's an optional external drive called the MacBook Air SuperDrive, that'll cost you $99. If that doesn't sound appealing, there's a new feature built into the MacBook Air called Remote Disc. It does exactly what you think it'd do, allow you to access a disc drive in another device, remotely. Allowing you to install software by borrowing drives of other Macs or PCs. Not ideal, but not a bad solution either.
The other ominous sacrifice is that the sealed battery in the MacBook Air isn't removable. Certainly a sin on a notebook device and enough to put me off.
Despite the sacrifices, there is an advantage too, the lack of a DVD drive makes room for a bigger battery and Apple claim that the MacBook Air will give you 5 hours worth of battery - whilst you're using Wi-Fi to access the web!
Available to pre-order now, the MacBook Air will ship in 2-3 weeks and is available in two models:
A 1.6GHz model with a 80GB 4200rpm hard disk for £1,199.00
A 1.8GHz model with a 64GB SSD drive for £2,028.00
It's not cheap, but then, you do pay the price for the thinnest laptop...ever.
As with many Apple products, looks have to be of the utmost importance to warrant the cost at the expense of performance. The same is true of the MacBook Air but boy oh boy, it sure is pretty.
Official press release: Apple Introduces MacBook Air - The World's Thinnest Notebook