Kindle your love for reading?
At a launch event in New York today, Amazon launched its Kindle reading device which is now available at Amazon.com at a retail price of $399.
Having been in development for over 3 years, Amazon hopes the device will open new possibilities in the way we read. With built in wireless and no monthly wireless bills, Kindle offers direct access to over 88,000 books as well as newspapers, magazines and even blogs.
The device features a screen which Amazon define as a "revolutionary electronic-paper display", providing a sharp picture that reads just like real paper without causing the strain of a traditional PC screen. Weighing in at just 10.3 ounces, Kindle is lighter and thinner than most paperbacks and can store hundreds of titles at once.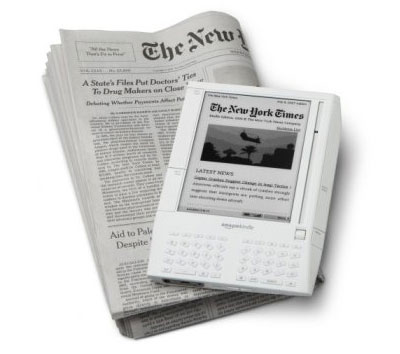 Speaking on Amazon.com, the Kindle Team states "We wanted Kindle to be completely mobile and simple to use for everyone, so we made it wireless. No PC and no syncing needed. Using the same 3G network as advanced cell phones, we deliver your content using our own wireless delivery system, Amazon Whispernet. Unlike WiFi, you'll never need to locate a hotspot. There are no confusing service plans, yearly contracts, or monthly wireless bills—we take care of the hassles so you can just read."
With best sellers and new releases at $9.99 or less, newspaper subscriptions from $5.99 to $14.99 per month and Kindle magazines between $1.25 and $3.49 per month, Kindle offers a very appealing package. Furthermore, each subscription package is available for a free two week trial. A UK release date however has not yet been announced.
Further reading
Official product page at Amazon.com
Official Kindle store
Kindle video demonstration