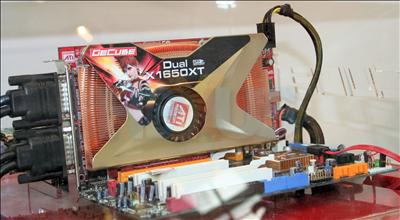 Remember ATI's Gemini project? GeCube has taken on itself to architect a working version that takes in two Radeon X1650 XT GPUs on a single PCB.

The card uses single-slot cooling and has self-contained CrossFire that works on Intel's 945/965/975X chipsets only. ATI's own chipsets given the shove, then?

Driver problems, we hear, has kept the Gemini 2 from hitting the retail shelves earlier, but this model will be available in the channel shortly.

Each GPU has access to 256MiB of GDDR3 memory, accessed via a 128-bit bus.

The technology is more than a mere integration, though. Run via two DMS59 DVI connectors, each providing two heads, it provides support for four independent displays, albeit in single-link mode only.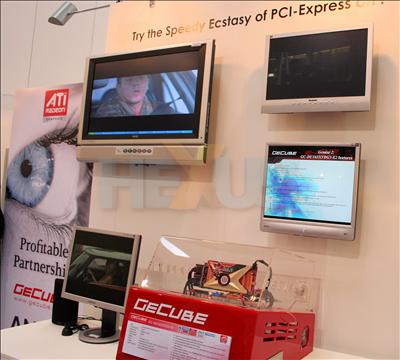 GeCube will harness the same technology on AMD's next iteration of graphics cards, as well. RV630, though, will be a dual-slot offering, but will support dual-link DVI on all four heads. I just need to order 3 more Dell 30in panels now.