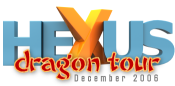 Willy boy's trawl of the back-street markets of Taipei has given us some background to the delays suffered by the R600 DirectX 10 graphics processor - All the might of the AMD/ATi combine can't deliver R600 on time - and he continues to spill the Beanz...

ATi has attempted to create good working versions of the R600 a number of times but, for various reasons, has needed to re-spin the GPU. The company is now up to spin A13.

However, that does

not

mean it had to do a dozen re-spins!

One of the two numerals indicates the version of the silicon spin; the other the version of the metal spin. Think of it this way - when the spin revision is designated A

xy

, then

x

is for silicon, and

y

is for metal.

It's rare - close to unheard of - to get everything right first time, so re-spins are an expected and planned-for part of the design-proofing process. But, the fewer a maker can get away with the better, especially since each costs in the region of one million US dollars!

That, of course, is small beer when the building of a fabrication plant can cost many billions of dollars but every penny saved helps the bottom line.

Far more important, though, the fewer re-spins there are, the earlier mass production can start - and the sooner the GPU can come to market and money can start flowing in towards the maker's piggy-bank.

The reasons why a re-spin might be need can be highly technically convoluted. They can also be ultra simple. Humans, remember, are involved in the production decisions.

With A11, as we understand it, the issue was very, very simple. Someone

forgot

to connect the pins that let the GPU communicate with the outside world.

D'oh!

Bang goes your Christmas bonus, sunshine!

We don't know the state of play with the A13 spin but do understand that ATi has got A12 running at a speed of 1GHz.

That's around half the target speed of the production version, which is now set to arrive some time in "early" 2007 and not before Christmas as originally promised. That gives NVIDIA's faster-than-a-ferret-on-pheromones, DirectX 10 GPU - the G80 - a quarter's head-start or more.