Just as we were getting used to putting 'AMD' in front of the names of Radeon graphics-cards, it looks like the company might be considering a come-back for the fan-favourite ATI branding.
A quick look at the recently updated Catalyst PC Vendor ID List - which has since been pulled, but is still available thanks to the wonder that is Google Cache - shows a handful of unannounced Radeon HD 6000-series cards bearing the ATI name. These stand in stark comparison to the two entries for 6800-series cards that appear with the AMD marque both on the list and the retail packaging.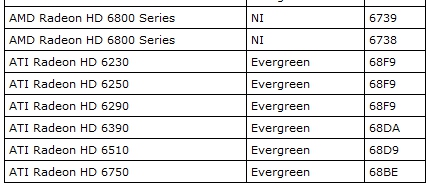 The listing also gives a little bit of insight into what might power these GPUs. The new parts have all been assigned Evergreen ASICs, suggesting that they'll be rebranded versions of older HD 5000-series cards. Based on the product IDs, the HD 6200 cards will use repurposed HD 5400 GPUs, the HD 6390 and HD 6510 will be based on the HD 5500 GPUs and the HD 6750 will share a chip with the HD 5700-series.
None of these new GPUs have actually been announced yet, so we don't know any more details about them at this point. While there might be some upgrades to the design of the cards, it seems a lot more likely that they'll be straight rebrands of existing products.
The obvious explanation for the entries is that someone at AMD unwittingly copied and pasted them from older cards with the same vendor ID, inadvertently bringing the ATI branding with them. Alternatively, it's possible that we'll be seeing the classic name and logo making a triumphant return, even if it's only for as long as the Evergreen architecture is still in use.