The MacBook Air is a wonderfully portable and slick looking thin and light notebook however there are no GPU options from Apple except to use the standard Intel integrated graphics. This wasn't enough for one gamer, TechInferno.com forum member Larry Gadea (AKA Kloper), who decided to rig up an Nvidia GeForce GTX 570 graphics card to provide gaming oomph. The externals that make this happen are a rather ugly mass of components and cabling spaghetti but are said to work a treat and be easily disconnected until next time you want to game at full throttle.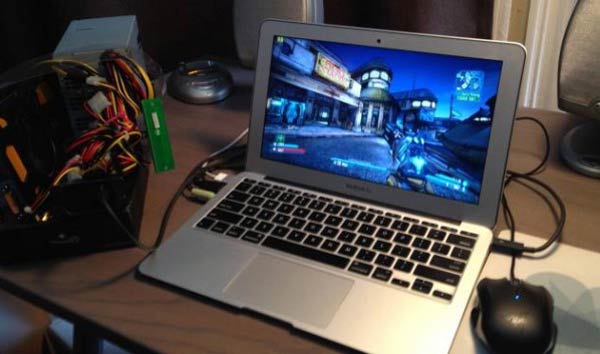 It is the Thunderbolt port which saves the MacBook Air from permanent gaming mediocrity. The Thunderbolt standard offers "direct GPU attach capability via the PCI-Express bus and connects to the motherboard on an x4 PCIe 2.0 link". However this solution is not certified by Intel and no official external GPUs have thus been manufactured.
Kloper decided to build his own external GPU using the following ingredients:
Mid-2013 MacBook Air
Sonnet Echo ExpressCard Pro
BPlus PE4L V2.1 ExpressCard to PCI-Express adapter
Thunderbolt cable
450W power supply capable of running the video card
$25 DIY eGPU Setup 1.X, developed by Nando
An Nvidia GTX 570 (he had lying around spare)
USB memory drive with at least 4GB free for Windows Boot Camp and a Windows 7 ISO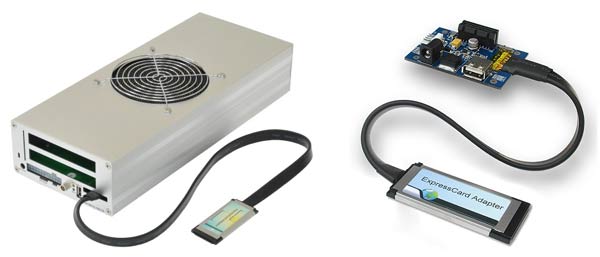 Two of the adapaters you have to fork out for
All the extra bits to make his MacBook Air a gaming laptop, offering around 6X faster 3D graphics, cost about $250 plus the cost of a graphics card, Windows and a power supply.
Take a look at the original forum post for more technical data on how all this equipment works together and a step-by-step list of instructions. For others, more interested in the possibilities rather than replicating the feat, I have embedded a short overview YouTube video below.
Kloper did some benchmarking comparisons using the same games native on his MacBook Air and using his eGPU contraption and the results are published on his forum post. As mentioned in the intro the improvements in performance using the eGPU are on average about 6X framerates. He concludes that "It has become very clear that gaming is not only high-performance, but super practical on an 11" MacBook Air. There's so much going against it: this hodgepodge of adapters, it has a low voltage CPU, disaster of wiring and exposed sensitive parts, crazy boot-time chainloading software, Intel killing companies producing adapters and products left right and center via legal threats, etc. but somehow, with the right parts and some patience, it works spectacularly. And is quite cheap too!"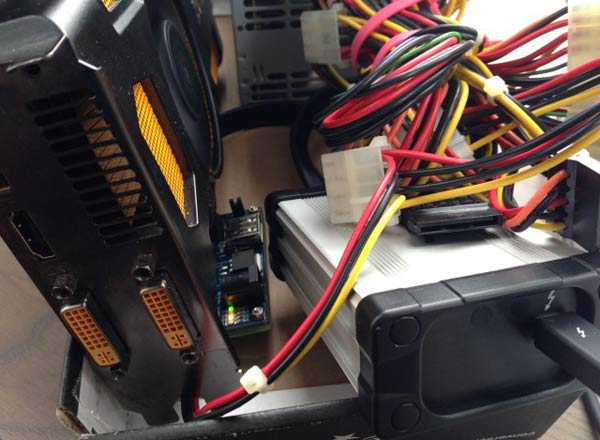 It is noted that other Nvidia GPUs and AMD GPUs can work in this eGPU setup, the AMD versions would require different software. Some super-fast new cards will be limited by the slower PCI bus in Kloper's setup so would be wasted on this system. Also using a desktop monitor connected directly to the external graphics card helps performance along by, on average, 1.3X.