You'd think that BFG has water-cooled NVIDIA GPUs covered with the already-available GeForce GTX 295 H2O, GeForce GTX 285 H2O and the GeForce GTX 295 H2OC.
However, the US-based manufacturer isn't done yet, and it's today announcing a pair of new solutions that promise "liquid cooling, plus killer graphics, in one awesome solution".
The cards, dubbed the BFG GeForce GTX 295 H2OC and BFG GeForce GTX 285 H2O+, both feature ThermoIntelligence Advance Cooling Solutions. In English, that's a self-contained liquid-cooling loop designed by CoolIT systems to push coolant across the GPU and exhaust heat from the rear of a chassis. Useful, of course, if you're after liquid cooling but don't have the nerves of steel required to install a custom solution.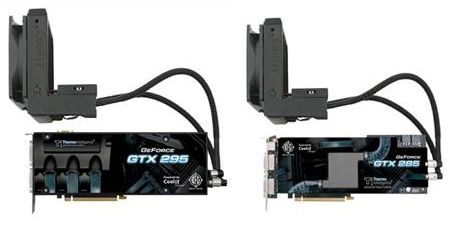 BFG's cooler ships with three available speed settings - Auto, Quiet and Maximum - and, presumably when set to the latter, promises to keep the cards up to 30°C cooler than NVIDIA's reference design.
Both cards are impressive in appearance, but they're also factory overclocked to offer a little more out-the-box wallop. The GTX 295 - which is a single-PCB design that sports 1,792MB of GDDR3 memory - features core, shader and memory clock speeds of 675MHz (up from 576MHz), 1,458MHz (up from 1,242MHz) and 2,214MHz (up from 1,998MHz), respectively.
The GTX 285, meanwhile, features a core clocked at 691MHz (up from 648MHz), shaders clocked at 1,566MHz (up from 1,476MHz) and 1,024MB of GDDR3 memory clocked at 2,592MHz (up from 2,484MHz).
There's no mention of pricing yet, but don't expect these to be cheap when they make their appearance in the coming weeks. BFG tells us to expect the GeForce GTX 295 H2OC to show up in limited quantities on August 5th, and that'll be followed by the GeForce GTX 285 H2O+ on August 12th.