If you're in the market for a Radeon HD 4850 or Radeon HD 4870 and high-quality air cooling matters most, take a look at Force3D's latest concoction: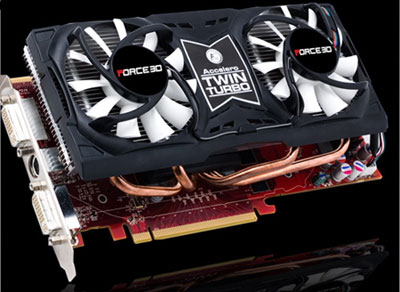 Yep, Force3D, a relatively new start-up in the graphics-card market, is one of the first to slap Arctic Cooling's Accelero Twin Turbo cooler to its Radeon HD 4000-series graphics cards.
Whilst its regular Radeon HD 4870 performs well without adding anything new to the mix, this Twin Turbo edition looks a tad more interesting.
Force3D states that the cooler will lower temperatures by 26 degrees C, whilst keeping noise below six sones. That's the kind of cooling that will allow "enthusiasts to elevate overclocking potential to new heights," says the Hong Kong-based manufacturer.
The cards feature four heatpipes, 30 fins, and two PWM-controlled 80mm fans that are capable of speeds between 1200rpm and 2000rpm, providing a maximum 120watts cooling performance.
There's no word on pricing just yet, but both the Radeon HD 4850 and Radeon HD 4870 will be available in Accelero Twin Turbo form in the very near future.
Official press release: Force3D introduces Accelero Twin Turbo