It was only a matter of time until one of AMD's partners rolled out a passively-cooled and completely silent derivative of its newly-launched Radeon HD 4550 - a card that we concluded makes a reasonable stab at gaming and, on paper, has strong multimedia credentials.
Two of the first such offerings come from Taiwan-based Force3D in the form of its passive Radeon HD 4550 and Radeon HD 4350.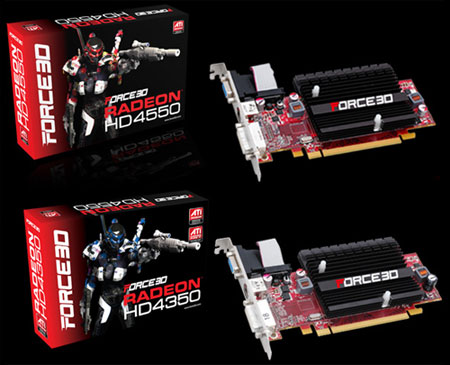 The cards, pictured above, feature a core clock speed of 600MHz, and 512MB of memory. The quicker HD 4550 offers memory of the DDR3 variety, clocked at an effective 1,600MHz, and the HD 4350 follows up with DDR2 clocked at an effective 800MHz.
Our review of AMD's reference board found the Radeon HD 4550 to be a solid all-round solution. It's able to plod along in most games, but it really shines on the multimedia front. Force3D's offerings provide DVI and TV-out, as well as built-in HDMI with 7.1 surround-sound support.
Take into account AMD's UVD 2.0 - a feature able to offload the decode of high-def material from the CPU, and you're looking at a potent and completely-silent HTPC solution.
Official press release: Force3D Radeon HD 4550 & 4350 - Step Up Your Game
Useful link: Review: AMD Radeon HD 4550: budget bonanza?