Qualcomm has released a mid-generation processor upgrade in the form of the Snapdragon 855 Plus. The new processor is designed to raise the bar for gaming and VR users - thanks to its clock boosted CPU and GPU cores. Other than the speed boosts, which may be worthwhile to some, there doesn't seem to be any other significant changes here.

Qualcomm Vice President and Product Manager, Kedar Kondap said "Snapdragon 855 Plus will raise the bar for elite gamers with the increase in CPU and GPU performance and elevate experiences for 5G, gaming, AI and XR, which is something our OEM customers look to us to deliver". Kondap went on to call the new processor Qualcomm's "most advanced mobile platform to date".
At the time of writing the Qualcomm Snapdragon 855 Plus announcement page and associated documents seem to have been taken down, so I can't provide much depth in describing what is on offer. However AnandTech has produced a handy table to compare the specs directly against a plain vanilla Snapdragon 855.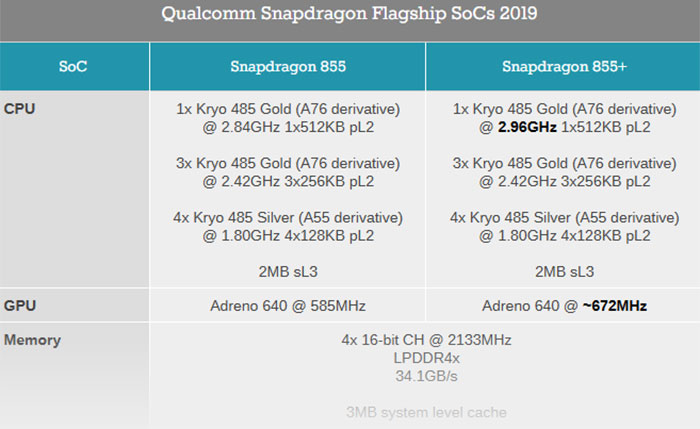 As you can see above, the only differences are in the max clock boost speeds for CPU and GPU, and thus Anandtech refers to the 855 Plus as "a higher bin SKU". In percentage terms, little has been added to the CPU boost, one core can run just 4.2 per cent faster, but the Adreno 640 GPU clock boost is more impressive at about 15 per cent faster.
Elsewhere the SD855 and 855 Plus designs show no variance. They both are still 7nm, include the same Memory system, ISP, DSP, and modem (X24 LTE). Thus this part still needs a separate chip, the Qualcomm X50 modem, to enable 5G connectivity. Qualcomm hasn't indicated any power use / efficiency variance, it still lists the Plus SoC as offering "all day battery life".
Qualcomm doesn't name check any smartphone vendors which will be making use of the Snapdragon 855 Plus but says it is expecting devices to ship in H2 2019. It is possible that the Samsung Galaxy Note10 will sport the SD 855 Plus in some regions.