It was way back in November 2008 that we first laid our eyes on Corsair's plans for memory-cooling domination, and its extreme solutions are today hitting the market.
The Corsair Cooling range, for Dominator and Dominator GT modules, gets underway in the form of the Hydro H30 water block and the Ice T30 thermo-electric cooler (TEC).
The latter, pictured below, is a TEC/water block combo that promises to cool up to six modules by up to 20°C below ambient temperature - making it the world's first sub-ambient cooler for PC memory, says Corsair.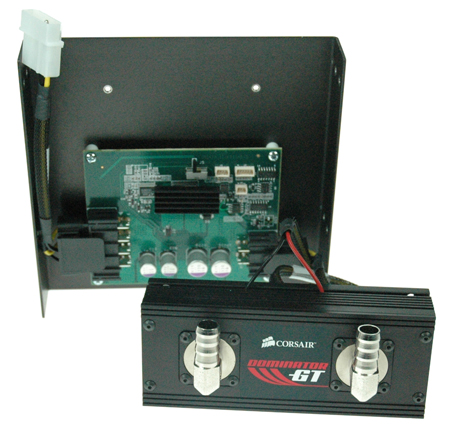 The water block itself is built of anodised aluminium and sports 3/8in inner-diameter tubing and should therefore be compatible with most existing water-cooled setups.
According to Corsair, the Ice T30 can squeeze an additional 100MHz out of existing Dominator modules, and if you're worried about condensation - it has a solution for that, too. The Ice T30 comes bundled with a "sophisticated humidity sensor circuit", which Corsair claims will prevent modules from being cooled below the dew point at which condensation occurs. That sounds useful, as does Corsair's 1-year warranty.
What's the cost of extreme sub-ambient memory cooling? Well, as expected, it won't come cheap. Corsair's Ice T30 is available directly from the Corsair Online Store at a cost of $200. For the lesser mortals, the standalone Hydro H30 water block can be had for $60.