LUXA2, a recently-established lifestyle division of Thermaltake, is on hand at CeBIT '09 with a number of interesting products. Moving away from Thermaltake's gamer-friendly image, LUXA2 offers a range of items for the more sophisticated user.
In addition to its gorgeous LM100 Mini chassis, it's entering the burgeoning notebook-cooler market with an offering aimed at Apple MacBook users. Useful if you're understandably worried about your MacBook exploding into flames.
The cooler, pictured below, is known simply as the M2, and should appeal to Apple users as a result of its sleek foldable design. Not to mention that rather sexy carrying case.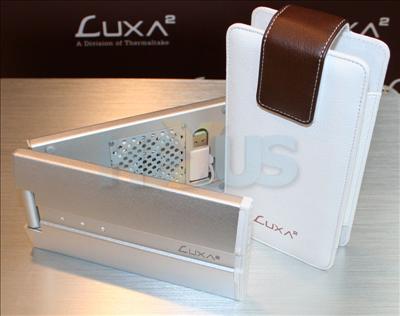 Sadly, despite its easy-on-the-eye design - complete with a couple of crystallised Swarovski elements - its functionality is questionable. The M2 features just the one solitary 50mm fan and its 7.1CFM airflow might leave a lot to be desired.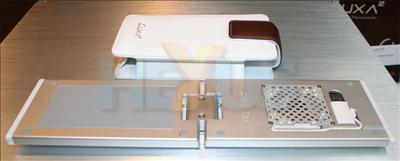 Still, Apple's MacBook is renowned for its sumptuous aesthetics, and LUXA2's M3, likewise, is one of the best-looking notebook coolers we've seen.