Fractal Design has updated its popular Celsius AiO liquid cooling systems with a sober new look. The new Celsius S24 Blackout and S36 Blackout AiO coolers now ship in a uniform all-black colour scheme, but retain the cooling modes and capabilities of their predecessors.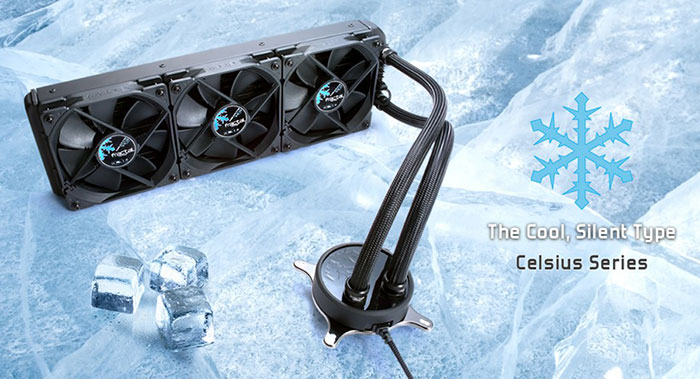 HEXUS reviewed the Fractal Design Celsius S24 two years ago, and now this same Editor's Choice winning product is available in all-black, as the Celsius S24 Blackout. At the time it was the quietest AiO cooler we had ever tested, and attention to detail was evident throughout the design. Even if you didn't read our review, you have probably already determined from the name that this product ships with a 240mm radiator.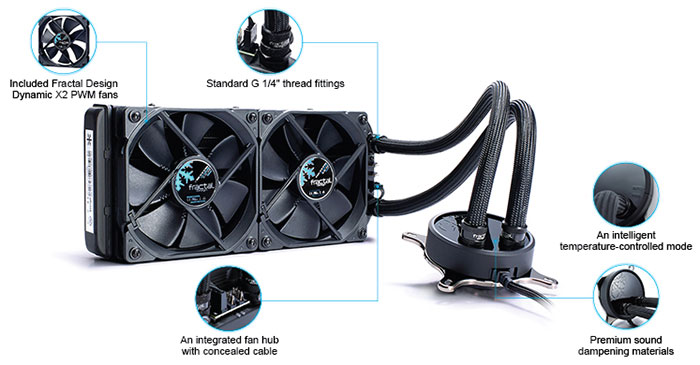 The new Blackout versions of Fractal Design's Celsius AiO coolers include the same fan and pump speed management through motherboard PWM output, or via the temperature-controlled automatic mode, but come pre-fitted with Dynamic X2 GP-12 PWM Black Edition fans for a darker, more uniform look.
Thus key features of the two solutions remain as follows:
The Celsius series uses a combination of cutting edge technology and premium sound dampening materials to deliver extreme cooling performance with minimum noise output.
An intelligent temperature-controlled auto mode adjusts fan and pump speeds in real-time for optimum balance of cooling performance and silence, while PWM mode enables precision manual tuning for any usage situation.
Included Fractal Design Dynamic X2 PWM fans offer a wide speed adjustment range from 500 to 2000RPM allowing for near silent operation under lighter loads and maximum airflow during heavy usage.
An integrated fan hub with concealed cable routing simplifies cable management for a clean installation.
Radiator fittings use standard G 1/4-inch thread for maximum compatibility and expandability with standard do-it-yourself components. Easily add and integrate a GPU block of your choice to eliminate noisy graphics card fans so the only sound you hear is the sound of your game.
Support for most AMD and Intel CPUs.

You can read more about the Fractal Design Celsius S24 Blackout and S36 Blackout AiO liquid coolers via the respective links.
The updated AiO coolers are available immediately at $109.99 for the Celsius S24 Blackout, and $119.99 for the Celsius S36 Blackout. Buyers get a five year warranty.