Like the look of Fractal Design's Define Series enclosures but put off by their typically large size? Then you're in luck, as the Swedish manufacturer has today unveiled its smallest Define Series enclosure to date, the Nano S.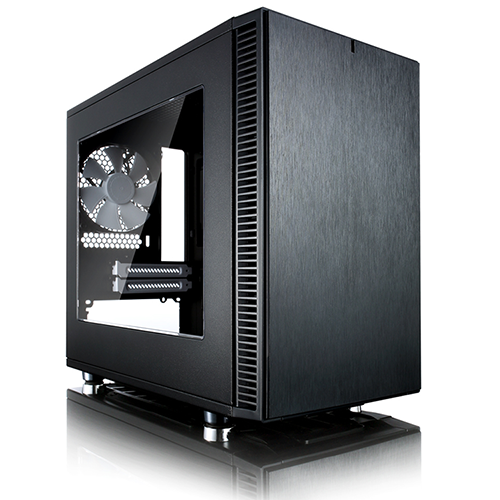 Priced at £50 and designed exclusively for mini-ITX motherboards, Nano S retains the look and feel of a Define Series enclosure and includes sound dampening material on its front, left and right side panels. Two Dynamic Series fans are includes as standard - a 140mm front intake and a 120mm rear exhaust - and the 275mm (W) x 485mm (H) x 420mm (D) frame isn't short on build potential.
Two expansion slots allow for a dual-slot graphics card measuring up to 315mm in length, a CPU cooler can stand up to 162mm tall, and with half-a-dozen fan mounts in total Fractal reckons you can squeeze in a 240mm radiator up top or a 280mm radiator in the front.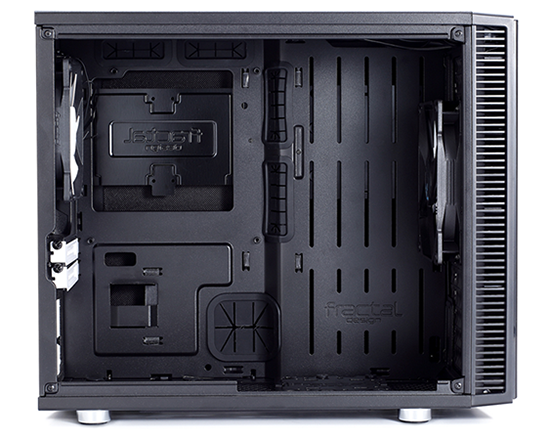 Pre-drilled holes for pump and reservoir are nice touches for the liquid-cooling crowd, and for the rest of us there's up to 35mm of space behind the motherboard tray for excess cabling, as well as Velcro ties to help keep things tidy.
There's no love for optical discs, and sadly no fan controller, however you do get mounting points for up to four 2.5in storage devices and two of these bays are also compatible with 3.5in drives. Our initial impressions are it's a nice-looking box at a reasonable price, but there is a caveat in that retail availability isn't expected until March at the earliest.
We'll endeavour to bring you an in-depth review in the weeks leading up to launch, but in the meantime there's a video overview above, specifications below, and don't miss your chance to win the Define Nano S in our latest competition.
Define Nano S key features
A Define Series ITX case designed for silent computing with sound dampening and ModuVent™ technology
User-friendly construction with superior cable management and compatibility for full-size components
Flexible storage options with room for up to 4 drives
Accommodates a variety of radiator sizes and includes brackets for reservoir and pump mounting
Features two Dynamic Series fans - 1 GP-12 and 1 GP-14 - with an adapter included for motherboards with limited fan headers
Featuring an open interior allowing an unobstructed airflow path from the front of the case to the rear exhaust
Easy-to-clean filters on the top and bottom, spanning the PSU position, with the bottom filter ejecting from the front for easy-access
Define Nano S specification
ITX motherboard compatibility
2 expansion slots
2 - 3.5" HDD/2.5" SSD positions; 2 - 2.5" dedicated SSD unit positions (fits SSDs up to 13mm thick)
6 - Fan positions (1 Fractal Design Dynamic GP14 140mm fan + 1 Fractal Design Dynamic GP-12 120mm fan included)
Filtered fan slots in the front and bottom (ejects from the front of the case)
CPU coolers up to 160mm in height
ATX PSUs up to 160mm deep
Graphics cards up to 315mm in length with front fans mounted (Cards wider than the dual slot bracket are not recommended)
17 - 35mm of space for cable routing behind the motherboard plate
Velcro straps included for easy cable management •Both side panels and rear HDD/SSD brakcets feature smart captive thumbscrews
Dense sound dampening material on front and right side panels; left side panel includes a transparent window
ModuVent™ on top of case for further silent computing or additional ventilation
Colours available: Black
Case dimensions (WxHxD): 203 x 330 x 400mm •Case dimensions - wtih feet/protrusions/screws: 203 x 344 x 412mm
Net weight: 4.6 kg
Case volume: 26.80 litres
Package dimensions (WxHxD): 275 x 485 x 420mm
Package weight: 5.8 kg