South Korean PC accessories firm Zalman has introduced a new chassis to join its Z11 range. The new ATX mid-tower is called the Zalman Z11 Neo. The all-black chassis, with blue LED highlights, has a rounded front flanked by jet fighter style air intakes either side. Zalman highlights the cooling qualities of the chassis as a particular standout feature.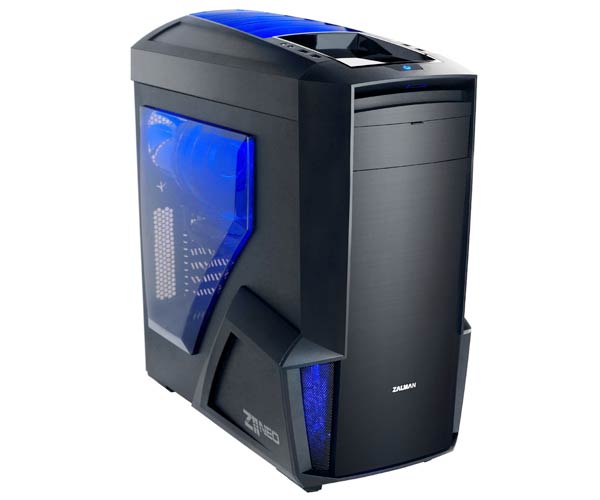 Zalman's Z11 Neo is constructed from sheet steel and plastic with a prominent acrylic window in the side to allow you to show off your PC components. The front panel is made from brushed aluminium, also in a black finish. Inside you will find all surfaces black painted for a consistent look.
This ATX mid-tower can be fitted with up to eight system fans "for maximum airflow". Dust filters front and bottom help reduce dust ingress from these intake points. Liquid cooling is catered for with a dedicated top mount section where you can fit a dual radiator solution. The motherboard tray has a cut-out to help you change the CPU cooler, providing under-board access without too much fuss.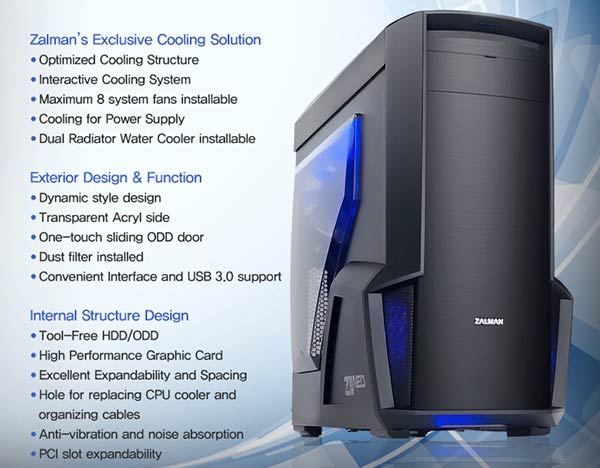 The Zalman Z11 Neo is tool-less for both delving into the chassis and switching out drives. On the subject of drives there is capacity for up to six 3.5" and two 2.5" storage devices. The single 5.25" drive bay is accessible via the front via a 'one touch' sliding ODD door.
Case Type: ATX Mid Tower Case
Dimensions ( W x H x D): 205 x 465 x 515mm
Motherboards: Standard ATX / Micro ATX
Power Supply Unit: Standard ATX / ATX 12V
PCI / AGP Card Compatibility: Full size 270~400mm
Expansion Slots: 7 slot
Drive Bays: 5.25" External Bay x 1, 3.5" Internal Bay x 6, 2.5" External Bay x 2
Cooling: Front 2 x 120mm Fan Vent (1 LED Fan Included), Rear 1 x 120mm Fan Vent (1 Fan Included), Top 1 x 120/140mm Fan Vent (1 LED Fan Included), Bottom 1 x 120/140mm Fan Vent (Fan Optional), Side 2 x 80mm Fan Vent (2 Fan Included)
Front I/O Ports: 1 x Microphone, 1 x Headphones, 2 x USB 3.0, 2 x USB 2.0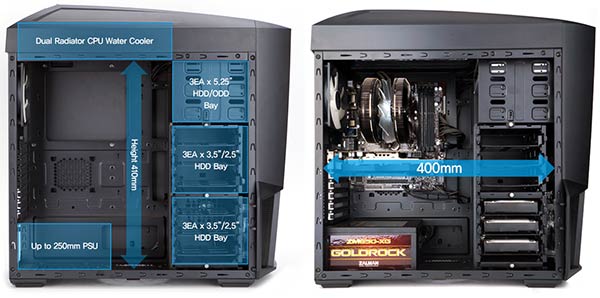 The maximum compatibility for graphics cards can be extended from 270mm to 400mm if you chose to remove one of the optional HDD cages and forego that storage expandability (see above diagram). This chassis has a 7 PCI slot capacity. The CPU cooler installed can be as tall as 175mm and the PSU can be as long as 250mm. It's worth mentioning that Zalman has installed rubber stabilisers and rubber feet in appropriate places to minimise vibrations and resulting noise from components such as any spinning discs and fans like that inside your PSU. Zalman has equipped this chassis with top mounted USB 2.0 and USB 3.0 ports, audio I/O, power and reset switches for convenience.
We haven't been told by Zalman of any availability or pricing details.