Corsair has released a broadside volley of PC cases at us today including its first Mini-ITX chassis as part of the brushed aluminium and steel Obsidian range and two new full-tower PC cases which will join the Graphite series.
Corsair Obsidian 250D
Corsair has announced immediate availability of the new Obsidian Series 250D performance Mini-ITX PC case. This is the company's first chassis built for the increasingly popular form factor. As part of the Obsidian range you can observe that the design retains the high quality brushed aluminium look and steel construction.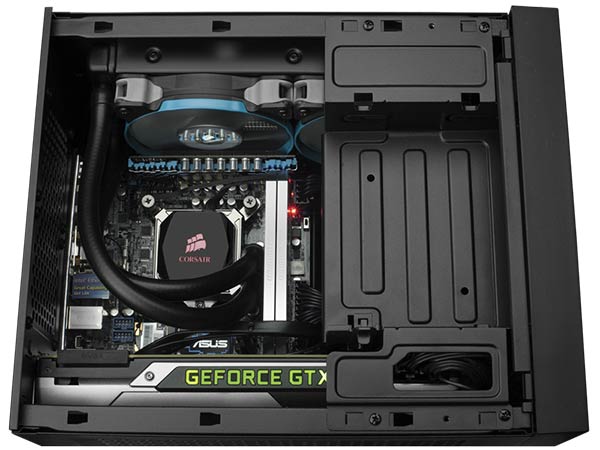 Despite its diminutive size the case can accommodate a wide range of high performance full sized components including Corsair's own PSUs and liquid coolers. "The Obsidian 250D is made for users who want a smaller PC but don't want to limit their hardware choices. With support for large liquid coolers, full-length graphics cards and full-size modular power supplies, 250D is Mini-ITX without compromise," said Xavier Lauwaert, Director of Product Marketing at Corsair.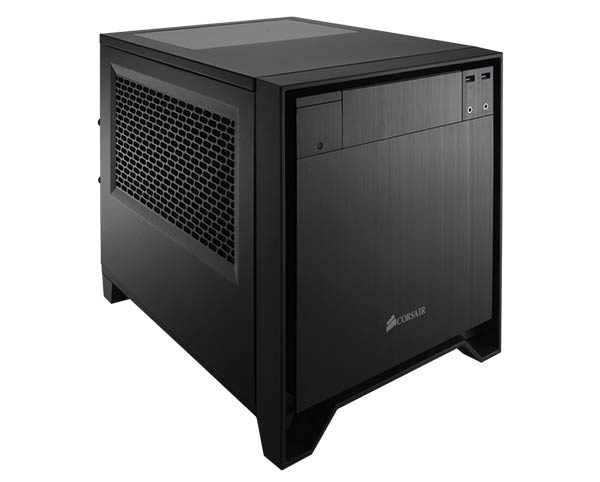 Key Corsair Obsidian Series 250D specs include: room for two expansion cards up to 290mm in length, 200mm PSU clearance, 2 x 3.5/2.5-inch combo bays, 2 x 2.5-inch bays, 1 x 5.25-inch drive bay. The case has two front mounted USB 3.0 ports and headphone/mic jacks. The case uses thumbscrew side panels and tool-free drive bays. Overall there is room for five fans including 120mm or 140mm at case front and 120mm/240mm fans at the side.
This Mini-ITX Obsidian measures 290mm x 277mm x 351.2mm and weighs 4.42Kg. The suggested retail price is $89.99.
Corsair Graphite Series 760T and 730T full-tower PC cases
Here's another two Corsair cases announced today. Let's start by looking at the new flagship of the Graphite series, the 760T. Corsair says that this case combines both sophisticated symmetrical design and ease of use. This full-tower case is available in either Arctic White or Black.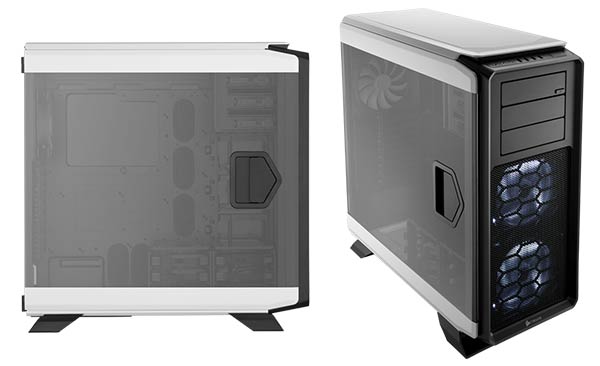 The Corsair Graphite Series 760T boasts nine expansion slots and should help you achieve most of your enthusiast PC builds with ease; supporting larger motherboards and running multiple GPU and other expansion cards. For storage devices you have a flexible array of options available; up to 12 total combo drive bays are available to populate. There are also four tool-free 2.5-inch SSD drive cages and three 5.25-inch bays.
Looking at cooling considerations the new 760T has a hi/lo fan controller and includes three 140mm fans as standard. There is also room for up to 8 fans and four radiators for your liquid coolers.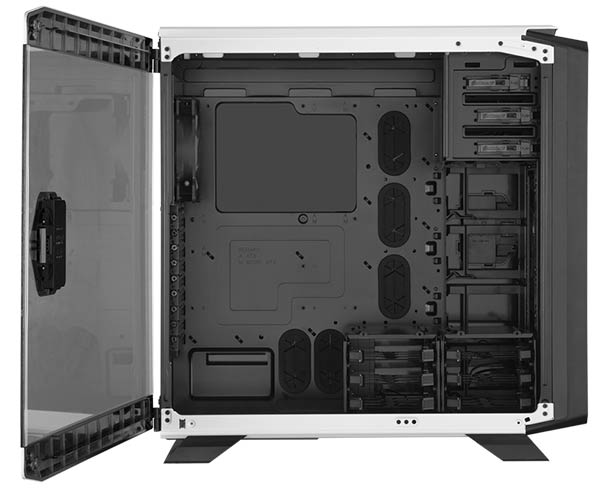 For ease of access and build the case has swing out side panels released by a single latch and tool free drive bays. Thumbscrews are supplied for all your expansion cards and there is ample cable routing room available beneath the motherboard tray.
This case has 4 x USB ports on the front panel (two of which are USB 3.0 compatible). It measures 22.4 x 9.7 x 22.2-inches and will be available from February.
US prices for the Corsair Graphite Series 760T are $189.99 for the Arctic White version and $179.99 for the Black version. The Corsair Graphite Series 730T is Black only and costs $139.99 – the only other difference to the 760T is that the 730T doesn't have any windows on the side panels and lacks the hi/lo fan controller.