Fractal Design is building on the success of its award-winning line of Define series enclosures with the launch of the new-and-improve Define R4.
In keeping with the Swedish manufacturer's previous efforts, the latest Define chassis touts minimalist design, combined with "maximum sound reduction, configurability and functionality."
Looking remarkably similar to its predecessor - the Define R3 - Fractal's refreshed model isn't visually striking, but it is simple and sleek, and if you prefer a bit of bling Fractal offers three colour choices; Black Pearl, Titanium Grey (pictured) and Arctic White.
Measuring 232mm x 464mm x 523mm in size makes this one of the largest Define chassis to date, and as expected there's room for an ATX, Micro-ATX or Mini-ITX motherboard. A total of eight hard-disk bays are available, along with two 5.25in optical bays and two 2.5in SSD bays that are mounted to the back of the motherboard tray, and Fractal has opted to remove the R3's rubber-grommeted rear liquid-cooling holes in favour of a 7+1 expansion slot layout.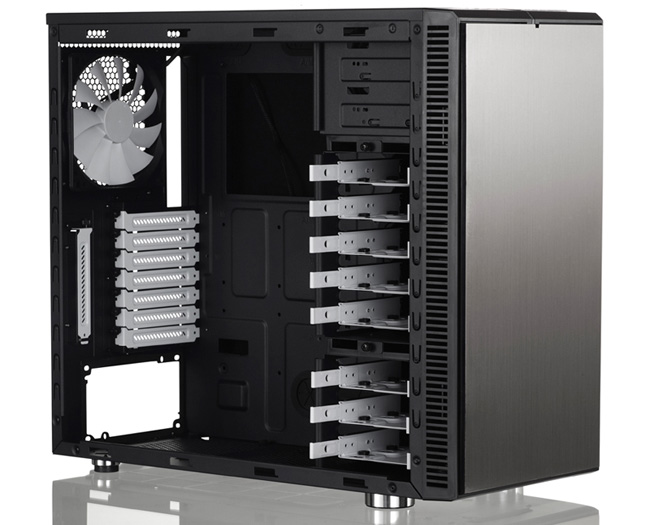 The R4 looks mighty familiar, but there are small changes throughout. The hard-disk cages, for example, can now be removed to create a clear path for airflow, there's a three-speed fan controller included as standard, and the top I/O panel has ditched eSATA in favour of two USB 3.0 ports and two USB 2.0 ports.
Fractal's default fan configuration includes a 140mm front intake and a 140mm rear exhaust, but sound-proofing is the R4's primary raison d'etre and to that end there's a good amount of sound-absorbing foam lining the side panels, front door and roof.
The changes between R3 and R4 appear to be minimal, but they're all helpful improvements and with an MSRP of £80, the Define R4 could prove to be popular among users seeking a better balance between performance and low-noise computing.