BitFenix may be a name you've seen banded about in recent months, but the company - founded by the former employees of Cooler Master - has today officially announced its first chassis; the Colossus.
As the name suggests, the manufacturer's first solution is targeting the high-end gaming/enthusiast crowd, and the chassis' in-your-face looks are something of an acquired taste.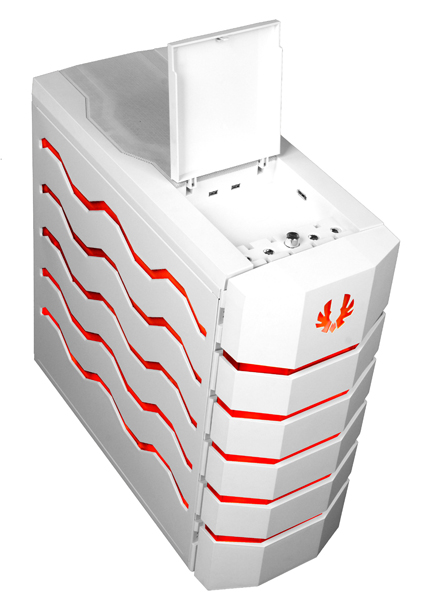 Measuring a massive 245mm x 558mm x 582mm, the steel beast is finished in a "proprietary BitFenix SofTouch coating" and is available in either Glacier White (pictured above) or Monolith Black.
And, in its hopes to bring flashing lights back into fashion, the chassis front and side panels are adorned by lines of either red or blue LED lighting. The colour can be changed at the touch of a button, and if you're planning a home disco you can easily switch over to pulse mode.
We're clearly not won over by the looks, but there's plenty inside the chassis to attract enthusiastic users.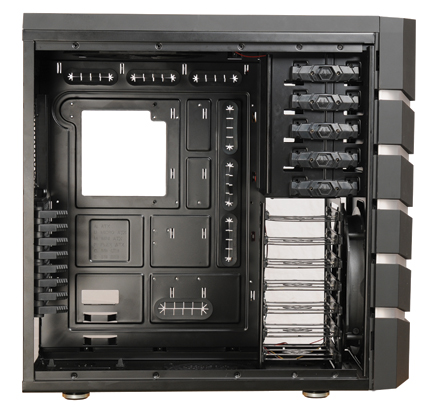 First and foremost, the full-tower enclosure will happily accept either a mini-ITX, mATX, ATX or E-ATX motherboard, and eight tool-free PCIe slots should have most multi-GPU configurations covered.
A PWM fan controller is included to provide finer control over the chassis fans, but only a single 230mm front intake is included as standard. There's room for additional fans to be added to the bottom, top and rear, and plenty of room for storage expansion through five 5.25in bays and seven 3.5in/2.5in bays.
Up top, a "BitFenix S3" storage-and-security system lets you store your gaming peripherals and lock them away, and opening the lid also provides access to two USB 3.0 ports, two USB 2.0 ports, eSATA and audio jacks.
There's also no shortage of holes for cable routing, and a good-sized cutout in the motherboard tray to help with CPU cooler installation.
David Jarlestedt, BitFenix product manager, claims the company "focused on how gamers and PC enthusiasts were interacting with their computers on a daily basis, and crafted a PC chassis that actually helps to enhance their computing experience".
"What we've been able to do is create a case that not only looks striking, but delivers novel features that truly benefit the user in terms of security, control, and performance," he adds.
We've yet to test the latter claims, but few could argue that it isn't striking. Want a closer look? Check out the video trailer below, or head over to retail stores later this month where you'll find the Colossus priced at €159 (roughly £130).
Press release: Introducing BitFenix Colossus