CHIEFTEC, the Taiwan-based manufacturer of chassis, has announced three all-aluminium additions to its HTPC range; the HM-01B, HM02-B and HM-03B.
The three new members of its Hi-Fi Series aim to meet the demands of HTPC users and hope to blend right into the living room.
The stack-like chassis, pictured below, offer a near-identical feature set in three different sizes to suit all audiences.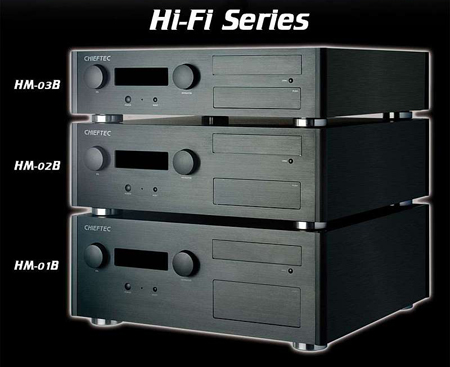 The Hi-Fi series is available in a choice of anodised black or brushed silver finishes, and allows for one 5.25in optical drive, and up to three internal 3.25in drive bays.
There's a front-facing dust cover that reveals a 56-in-1 card reader and USB (x2), FireWire and Audio connectivity. Each chassis is bundled with an iMon VFD and remote control, and features two turning-knobs for volume and general navigation.
The smallest of the trio, the HM-03B, measures a slim 410mm x 440mm x 100mm. Not without compromise, mind you. It'll only allow for low-profile cards and has room for only micro-ATX motherboards.
The mid-sized HM-02B also supports only micro-ATX motherboards but has room for full-height PCI cards. The largest of the three, the HM-01B, will take any standard ATX board.
CHIEFTEC tells us that the HM-01B, HM-02B and HM-03B will be available in Europe as of next week, priced at £199, £169 and £149, respectively. A little more pricey than we'd anticipated, and neither chassis will come bundled with a PSU.
Here's the complete specification:
Black anodised

Natural colour

HM-01B

HM-01SL

HM-02B

HM-02SL

HM-03B

HM-03SL

Form-Factor:

mATX, ATX

mATX

mATX,
low profile cards

Dimension (TxBxH):

410mm x 440mm x 160mm

410mm x 440mm x 133,5mm

410mm x 440mm x 100mm

Weight net / gross:

6,45Kg / 7,45Kg

5,45Kg / 6,45Kg

5,15KG / 6,15Kg

Drive Bays
external:

1 x 5,25'

1 x 5,25'

1 x 5,25'

Drive Bays
internal:

3 x 3,5'

3 x 3,5'

2 x 3,5'

Power Supply:

PSII Standard

PSII Standard

PSII Standard

Front Interface::

2 x USB, 1 x IEEE1394,
56 in 1 card reader, Audio

2 x USB, 1 x IEEE1394,
56 in 1 card reader, Audio

2 x USB, 1 x IEEE1394,
56 in 1 card reader, Audio

Special Fetures:

100% made of aluminium
iMON Remote control

100% made of aluminium
iMON Remote control

100% made of aluminium
iMON Remote control

Scope of
Delivery:

iMON Remote control, standard screws, mainboard spacers

iMON Remote control, standard screws, mainboard spacers

iMON Remote control, standard screws, mainboard spacers

Optional Fan(s):

2 x 80mm rear,
2 x 80mm left side

2 x 60mm rear,
2 x 80mm left side

2 x 80mm left side

Price (inc. VAT)

£199

£169

£149
Official product pages: CHIEFTEC.com