The no-frills all-in-one
Following on from its smart-looking Hi-Fi series, Taiwan's CHIEFTEC has tried its luck with another nice-and-tidy chassis that promises to deliver something of an all-in-one experience.
The CHIEFTEC L-type, pictured below, is an L-shaped chassis (who'd have guessed?) that's designed to house all your internal components and then allow the user to mount a flatscreen monitor to its front.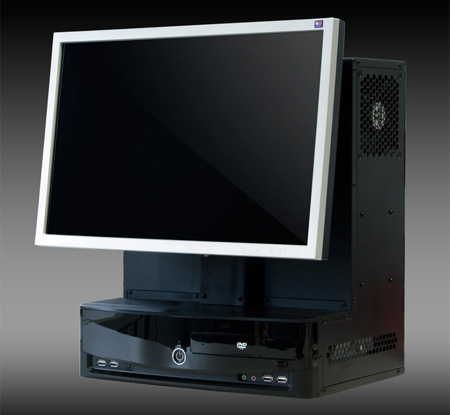 It's a long way from something like the Dell XPS One in terms of aesthetics, but then CHIEFTEC does expect the L-type to reach market in January 2009 at the reasonable sum of £50.
The L-type can house ATX or mATX motherboards, has room for seven PCI slots, three 3.5in hard-disk drives, and a single 5.25in optical-drive bay. It measures 255mm x 370mm x 418mm, weighs 6kg, and features a front-facing rail that allows a mounted flatscreen monitor to be height adjusted.
Speaking of the monitor, CHIEFTEC tells us that any flatscreen display measuring 19in to 24in can be mounted via a standard VESA mount.
Cooling comes courtesy of a 120mm 800rpm exhaust fan, along with air holes to the sides and rear. Not quite the best cooling system we've seen, but then it probably isn't intended to house a couple of GeForce GTX 280s.
It certainly looks a little odd, but it could make for a useful desktop solution. There is another slight problem, though, and it's all the cables you'll leave trailing from the left-hand side - as shown in the additional images on page two.