Corsair has just launched the new Carbide Series SPEC-04 mid-tower gaming case. These are roomy chassis (492 x 201 x 433mm) with a 'modern' angular design, a large tinted side window, and room for ample storage, flexible cooling options, builder-friendly cable cutouts and tie-downs, removable dust filters, and a handy side I/O panel. Beyond those appealing features and its trio of modern lures, "Modern Features. Modern Lines. Modern Performance," you can snaffle the Corsair Carbide Series SPEC-04 for under £50.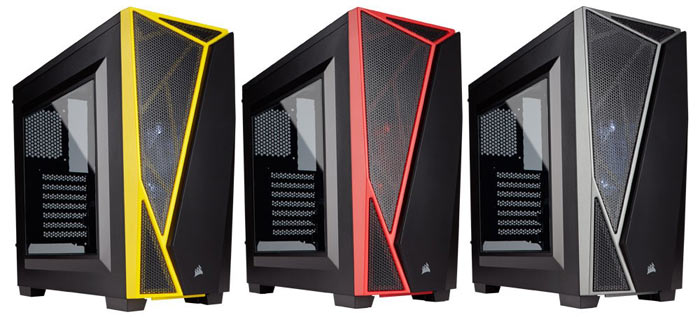 You can see that three for the four front panels are perforated to allow front airflow. Corsair has pre-installed a 120mm LED-lit front intake fan to make something of this potential. Elsewhere in the chassis there is room for up to five further fans; two 120mm or 140mm in the front, two 120mm in the roof, and one 120mm in the rear. One of the 120mm mounts can be used by any 120mm CORSAIR Hydro Series liquid cooler.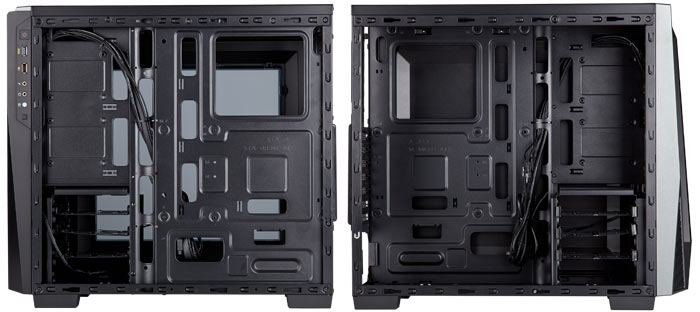 There's plenty of building and expansion room in this chassis. The SPEC-04 mid-tower supports ATX, MATX and mini-ITX motherboards. Depending on your motherboard choice you can fit up to seven expansion slots to house add-in-cards up to 370mm in length. For storage options there are mounts ready in the SPEC-04 for up to three 3.5-inch HDDs and two 2.5-inch SDDs.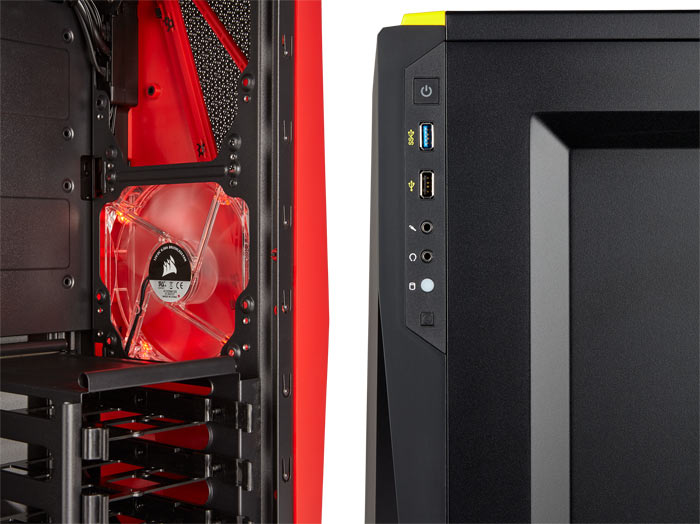 Key specifications of the Corsair Carbide Series SPEC-04 are summed up in bullet point format below:
Angular exterior design with large, tinted side panel window: The asymmetrical, hard-edged design adds bold styling to your build.
Room up to for five 120mm fans: Tons of room for excellent cooling potential with one 120mm front fan pre-installed.
Expansive storage space: Easy-to-use mounts for up to three HDDs and two SDDs.
Clean, side I/O panel: Featuring a high-speed USB 3.0 port and additional ports for all modern connections.
Cable routing cutouts and tie downs: Hide your cables behind the motherboard tray to keep your build looking tidy and out of the airflow path for improved cooling.
Removable, built-in dust filters: Added layer of protection will keep your components safe and running longer.
I/O Port: USB 3.0 port, USB 2.0 port, Headphone and Microphone jacks, Power on and Reset buttons.
Expansion slots: Seven
Maximum PSU length: 225mm
Maximum CPU Cooler Height: 150mm
Maximum GPU length: 370mm
Drive bays: 3x 3.5-inch, 2x 2.5-inch
Dimensions (L x W x H): 492 x 201 x 433mm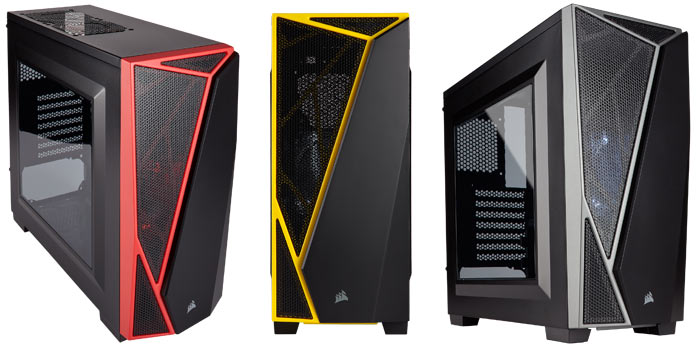 In an email to HEXUS, Corsair said that the new chassis series is available immediately worldwide from approved retailers. Pricing varies depending upon region (£49.99 in the UK) but all buyers will receive a two year guarantee.