Boston server seminar
Team HEXUS was fortunate enough to be invited along to Boston's VIP server and storage seminar, held at the swanky Rockwell hotel in Kensington, London.

You may well be wondering who Boston is and what the company actually does. Boston Limited was founded in 1992 by Manoj Nayee. Its primary aim during the formative years was to supply high-performance PC hardware to the discriminating end of the market, where overall service, as much as price, was high on the decision-making criteria list of potential customers.

Skip forward to 1995 and Boston became the sole U.K. distributor for Supermicro, which many of you will know as purveyors of high-quality motherboards, chassis, and, recently, complete server solutions. Boston has since forged key links with the likes of LSI Logic, Fujitsu, and AMD. By striking key alliances with multi-national companies and offering expert support that smaller U.K companies thrive on, Boston has carved itself significant penetration in the rackmount server, storage, and high-end desktop component market. It now has an online server configurator that you can access here.

Indeed, we took a look at Boston's X-Pack, which amalgamated key products from LSI and Supermicro.

The server seminar, then, was aimed at bringing together Boston's key partners and discussing the opportunities that lie ahead and the problems those companies plying their trade in this sector need to overcome, both in the short- and long-term timeframes.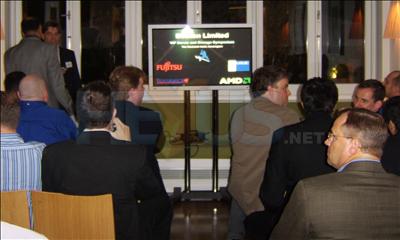 In a room where the suits probably cost more than this poor hack's monthly salary, Manoj identified some of the key challenges that lay ahead. What may surprise some of you readers who only have a passing interest in the server space, is the knowledge that initial hardware server purchases make up a significantly smaller proportion of overall total cost of ownership (TCO) than you may think. Maintenance, power and downtime, planned or unplanned, represent the bulk of TCO, so folks considering deployment need to factor in more than just the price, as is often the case with the desktop world.

Interestingly, power considerations have now become paramount, with some data centres simply unable to add extra hardware due to an inability to supply the power required for both operation and associated cooling. As a worst-case scenario, Google, for example, has faced problems in ensuring adequate power to its server farms, so modern servers need to be as power-efficient as possible, a factor that hasn't been considered too closely before.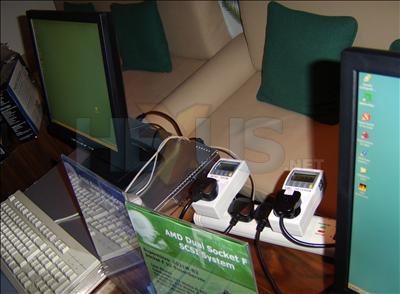 To somewhat ram this point home and leave you with no doubt who offers the better architecture with respect to the workstation and server world, we were shown a demonstration of two rackmount 1U servers with near-identical processing ability, differing only in the processors and system memory used. The left-hand side was equipped with Intel's Woodcrest CPUs aided by fully-buffered DIMMs, whereas the right-hand side was run with AMD's Opteron series. At full load the Intel system chewed around 230W from the mains, whilst the AMD required around 190W.

However, with both systems idling, a reasonably common occurrence because servers aren't usually subjected to complete 24/7 full load in a large percentage of installations, the Intel machine's requirement was reduced to around 230W and the AMD's, through PowerNow energy-saving technology, to 135W or so. We fully understand and appreciate that this was an AMD-engineered 'stunt' that was designed to show off the relative power drain of FB DIMMs, yet, we feel, companies supplying components to the enterprise world need to do more, lots more, to ensure that power efficiency becomes as important as pure performance and reliability metrics.

AMD's representatives also claimed that opting for an Opteron platform makes sense from futureproofing and commonality viewpoints. AMD currently offers its single-architecture Opteron, be it 1-,2-, or 8-series, as its workstation/server CPU. Customers know that configuring 1-way or 8-way servers will require near-identical CPUs and, just as importantly, identical base platforms.

AMD cited that Intel had, in 2006, 14 separate platforms for its workstation/server space. We and Intel would argue that innovation from new platforms is what keeps the industry ticking along, but AMD could argue, fairly, that a lack of common hardware architecture hurts the upgrade path, both financially and in terms of uncertainty, for smaller businesses whose growth demands faster hardware. Are fewer hardware transitions better than constant innovation and not-so-stable roadmaps? You pays your money and makes your choice. The debate can be argued well from both angles. It's not just about initial hardware cost, though. AMD asserts that hardware commonality reduces the total cost of ownership by utilising a common core strategy that requires fewer hardware and software variability. That's true enough, we suppose.

Speaking of Boston's other partners, LSI Logic produces a whole host of storage-orientated products and has been pushing SAS (Serial-Attached SCSI) devices for a while now, yet it has realised that good ol' SATA-connected adapters is still where the bulk of the market is at, so expect to see a wider range of SATA-based products across LSI's adapter range, from lowly 2-port to monstrous 16-port offerings. We also heard that LSI is introducing a range of products with its own, in-house-designed processors rather than having to rely on the likes of Intel.

Fujitsu's hard-drive division had some interesting numbers to share. Right now, in 2006, overall annual hard-drive shipments total around 350M, with 2.5in (laptop) drives making up around a quarter of that figure. Fujitsu expects their share to rise to almost 50 per cent by 2010, with 15K RPM models pervasive in the market.

What's also interesting is that Fujitsu claims that storage required for consumer electronics will become the main catalyst in the increase in demand. Hard drives required for your set-top cable box or DVD recorder, for example.

Small is beautiful, according to Fujitsu, the current European leader in 2.5in drive sales. It will add a smaller 1.8in drive to its product arsenal in 2007, and, according to research, these smaller drives sales growth is set to grow massively in the next 5 years. We've known this for a while and Fujitsu reinforces the notion that PATA is dead, being completely superceded by SATA. What's perhaps not so clear is that, as far as the enterprise market is concerned, Fujitsu reckons, SCSI, the old favourite, will be ousted by SAS as the connection of choice.

So we can expect to see a proliferation of 2.5in hard drives in the enterprise space, run off SATA and SAS connectors. Why have big and clunky when you can invest in small and fast, seems to be the message.

Supermicro, too, believes that miniaturisation is the key to the future, as it showcased a number of complete solutions that take up half the room in a regular 1U chassis.

It's not simply about reducing space, though. Rather, Supemicro's mantra lies with offering greater computing power in smaller form factors. For example, at the time of writing, it was the only provider of quad AMD dual-core server that's housed in a regular 1U chassis.

Going hand in hand with this is Supermicro's efforts at increasing efficiency by employing only the best PSUs. You might have heard of 80+, which is an attempt to increase and certificate PSUs which are over 80% efficient over a wide load. Supermicro goes one further by offering its customers 85%+ efficiency from selected PSUs.

What's important to understand after hearing a number of key players speak about the future is a significant emphasis on space- and power-saving technologies in the enterprise world. We can see smaller, chicer, quieter servers being the norm in just five years' time, and it's about time that the enterprise market jumped on the environmental bandwagon at long last.


Related Boston Storage Whitepapers

- Migrating to Serial Architectures - Download here



- IP-based Storage Area Networks - Download here