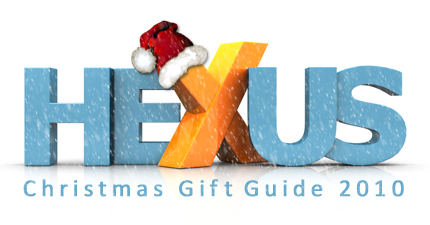 It's that time of year again. The HEXUS editorial team recently attempted a bout of Christmas shopping at Birmingham's Bullring, and the massive crowds coupled with the coldest November temperatures since 1985 have convinced us to realise an obvious truth; it's easier, warmer and more convenient to get your shopping done online.
To that end, the team has put heads together and come up with a series of 10 technology gift guides that we hope will help take the guesswork out of your 2010 Christmas shop. Over the next fortnight, we'll be suggesting a wide range of gear that we ourselves wouldn't mind finding under the tree come December 25th.
The series is now coming to an end, and we're wrapping up with a trio of gift guides that put forth component suggestions for self-built base units at three unique budgets; £500 (mid-range), £1,000 (high-end) and £2,000 (extreme).
We've approached these last three guides with a simple question in mind; if we had a set amount to spend on components at Scan Computers*, what system would we build? Sounds easy, but take our word for it, narrowing down to single components isn't easy - we've traded blows, the debate has raged, and though some of the HEXUS team continues to murmur, we've reached an agreement and reckon our configurations are pretty spiffin' at their respective price points.
But as always, there are numerous provisos when putting together a self-built rig. Component pricing fluctuates almost daily, and there's usually new technology just around the corner. Nonetheless, here's our pick of components for an extreme base unit that's priced at under £2,000.
CPU and Graphics






Intel Core i7 950 processor

We were eager to get the benchmark-busting Core i7 980X into this extreme build, but the hexa-core Gulftown part really eats into a £2,000 budgets. Instead, we've decided to go with a slightly-less formidable Core i7 part - the Core i7 950.

Competitively priced at £230, this quad-core/octo-thread chip - clocked at 3.06GHz with a 4.8GT/s Intel QPI - will run circles around most competitors and it's able to dynamically scale core speeds up to 3.33GHz using Turbo Boost technology. It should be features on any high-end shopping list.

Price: £230.50 at scan.co.uk
2x Palit GeForce GTX 570 graphics cards in NVIDIA SLI

We've been banging our heads together all day on this one; two Radeon HD 6970s in CrossFire or two GeForce GTX 570s in SLI? It's a close call, and performance from both setups is phenomenal, but we've opted for the latter.

It could have gone either way, but some of the HEXUS team has recently started to see eye-to-eye with 3D Vision, and as we said in our GTX 570 review; "Sensible tweaks in the Fermi architecture and a revised cooler makes this second-rung 500-series card a genuinely better bet than the previous champ, GeForce GTX 480. It's just as fast in games but, importantly, is cheaper, quieter and less power-hungry."

Price: £553.58 for two at scan.co.uk
Motherboard and Memory


ASUS Sabertooth TUF X58 Motherboard

You might expect to see something along the lines of a Rampage III Extreme in a £2,000 build, but such a board might be overkill if you're not planning on bringing out the liquid nitrogen.

Instead, we've picked out the more-sensibly priced Sabertooth TUF X58. At just over £150, this downright awesome-looking board provides the goodness of Intel's X58 chipset and a couple of added treats - namely SATA 6Gbps and USB 3.0.

The use of "military-standard" components is said to enhance the board's stability and cooling performance, and there are enough PCIe lanes to run the two suggested GTX 570s in SLI at x16 and x16.

Price: £152.26 at scan.co.uk


12GB Corsair Vengeance DDR3 1600 Memory

12GB of RAM might be a little over the top, but that's probably the idea if you're spending £2,000 on a base unit. Corsair's newly-launched Vengeance kit provides three 4GB modules for tri-channel use, and each module runs at 1,600MHz with timings of 9-9-9-24. It'll do all that at just 1.5V, and those funky-looking heatspreaders are a match made in heaven for the Sabertooth motherboard.

Price: £154.07 at scan.co.uk
Storage
2x 120GB OCZ Vertex 2E SSD

OCZ's Vertex 2E SSD offers stunning performance, but two of them in a RAID 0 array are certain to be mind-blowing. The combined 240GB capacity should be just about enough to run most of your games from the system disk.

Price: £350.44 for two at scan.co.uk

2TB Samsung Spinpoint F4 HDD

As for all your music and movies, that and just about everything else should fit nicely onto this 2TB Samsung hard disk. At around 3p-per-gigabyte, it's something of a no-brainer.

Price: £67.43 at scan.co.uk

LG BH10LS30 Blu-ray Writer

A Blu-ray writer can enhance the overall versatility of any system. Whether you're watching high-def movies or backing up data to Blu-ray discs, it's a great option to have. LG's BH10LS30 writes Blu media at 10x or standard DVDs at 16x.

Price: £86.93 at scan.co.uk
Chassis and Power Supply



Corsair Obsidian Series 700D Chassis

It might be a little on the big, black and bulky side, but two members of the HEXUS editorial team use the Obsidian for benchmarking and building rigs and both of them swear by it.

There's no windowed side panel and no hot-swap drive-bays ala the high-end 800D, but the drastic price discrepancy between the two makes the 700D our preferred choice. The chassis offers oodles of room to work with, excellent cable management, tool-free gubbins and a compartmentalised design that helps get the most out of your cooling.

Price: £156.25 at scan.co.uk
Corsair HX1000W Power Supply

The tried-and-trusted HX1000W might be getting old, but it's still a rock-solid unit. We've been using a couple of these in various rigs for years, and if we ever had to replace them, we wouldn't hesitate in buying the same again. The two 12V rails make it essentially a pairing of 500W power supplies in a slightly-oversized frame, but that old-fashioned design doesn't detract from the unit's credentials. It's efficient, armed with a large 140mm fan, bundled with a good selection of modular cables, and it's certified for three-way SLI.

Price: £167.78 at scan.co.uk
Operating System
Microsoft Windows 7 Home Premium (64-bit)

Microsoft's Windows 7 Home Premium is our preferred operating system for any self-built PC.

Our multi-part review explains why 7 is the best Windows yet, and if you're in need of pointers on how to get the most out of the software, you'll find video tutorials, tips and tricks at the Explore Windows website.

Price: £75.28 at scan.co.uk
Putting together a specification for a £2,000 extreme base unit is tough. Our suggested components combine to create a total bill of £1,994.52, but even at that lofty amount, we've had to make compromises. As with all self-builds, there are hundreds of variables and no single configuration is perfect. Would you approach a £2,000 build differently? Would you, for example, cut down on system RAM in favour of a dedicated soundcard? Or perhaps drop down to a single SSD to make room for an aftermarket CPU cooler? Let us know and share your own suggestions in the HEXUS.community forums.
HEXUS Christmas Gift Guides 2010
*UK-based HEXUS.community members will benefit from the SCAN2HEXUS Free Shipping initiative, which will save you a further few pounds in addition to top-notch, priority customer service and technical support backed up by the SCANcare@HEXUS forum.