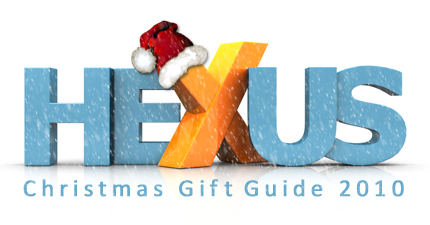 It's that time of year again. The HEXUS editorial team recently attempted a bout of Christmas shopping at Birmingham's Bullring, and the massive crowds coupled with the coldest November temperatures since 1985 have convinced us to realise an obvious truth; it's easier, warmer and more convenient to get your shopping done online.
To that end, the team has put heads together and come up with a series of 10 technology gift guides that we hope will help take the guesswork out of your 2010 Christmas shop. Over the next fortnight, we'll be suggesting a wide range of gear that we ourselves wouldn't mind finding under the tree come December 25th.
The series is now coming to an end, and we're wrapping up with a trio of gift guides that put forth component suggestions for self-built base units at three unique budgets; £500 (mid-range), £1,000 (high-end) and £2,000 (extreme).
We've approached these last three guides with a simple question in mind; if we had a set amount to spend on components at Scan Computers*, what system would we build? Sounds easy, but take our word for it, narrowing down to single components isn't easy - we've traded blows, the debate has raged, and though some of the HEXUS team continues to murmur, we've reached an agreement and reckon our configurations are pretty spiffin' at their respective price points.
But as always, there are numerous provisos when putting together a self-built rig. Component pricing fluctuates almost daily, and there's usually new technology just around the corner. Nonetheless, here's our pick of components for a high-end base unit that's priced at under £1,000.
CPU and Graphics



AMD Phenom II X6 1055T Processor

Intel or AMD for a high-end PC? Both offer fantastic options, but we've opted for the £135 AMD Phenom II X6 1055T.

The hexa-core chip - clocked at 2.8GHz - provides tremendous value for money, and if you'll be loading up all six cores, you'll get best-in-class performance at this price point. It overclocks well, slots into a wide range of feature-packed AM3 boards, and it's considerably cheaper than any of Intel's high-end Core i7 processors.

What the savvy shopper should know is that AMD produces two variants of the Phenom II X6 1055T - a standard 125W part, and a better, refined model that manages to keep within a 95W TDP. If you're planning on overclocking, and if your budget stretches another £15 or so, pick up the 95W edition to get an excellent mix of performance, power-draw, and price. But be warned, the 95W model doesn't ship with a cooler, so you'll need to stump up the cash for a third-party solution.

Price: £135.07 at scan.co.uk
MSI Radeon HD 6850 1GB Graphics Card

AMD's Radeon HD 6850 didn't break benchmarks when it launched back in October, but it took already-impressive performance and offered it in a cooler, more power-efficient, and feature-packed bundle that stands out at just over £130. Smooth full-HD gaming potential is backed up by a new UVD3 hardware decoder, full support for Blu-ray 3D and multiple outputs designed to drive multiple displays from a single card.

MSI's custom model is competitively priced, ships with default clocks of 775MHz for the core and an effective 4,000MHz for the 1GB frame buffer, and features a 9cm PWM fan that touts improved out-the-box cooling. Building with future upgrades in mind? You'll be able to slot a second Radeon HD 6850 into your rig for stunning CrossFire performance.

Price: £132.40 at scan.co.uk
Motherboard and Memory


Gigabyte GA-890FXA-UD5 Motherboard

The 890FX chipset might be AMD's current crème de la crème, but high-end boards are available at well under £150. One such offering if Gigabyte's UD5.

The cute blue colour scheme might not be ideal for a high-end rig, but the feature list certainly is. Some of the highlights include four PCIe x16 slots with 32 lanes dedicated to graphics (that's x16, x16 or x16, x8, x8 for two- and three-way CrossFire), four DDR3 memory slots supporting up to 16GB of RAM, six SATA 6Gbps connectors - as well as two of the SATA 3Gbps variety - Realtek HD Audio, dual Gigabit Ethernet, USB 3.0, FireWire, eSATA and a partridge in a pear tree. Alright, maybe not the latter, but you get the idea.

Price: £138.52 at scan.co.uk


4GB Corsair XMS3 DDR3 1600 Memory

Cheap and cheerful, but it gets the job done. Corsair's 4GB (2x2GB) dual-channel kit can be had for under £45 and it runs at 1,600MHz with timings of 9-9-9-24 at 1.65V. It's also backed by Corsair's lifetime warranty.

Price: £44.84 at scan.co.uk
Storage
Corsair Force Series F80 SSD

If you've become accustomed to solid-state storage, you'll almost certainly agree that a high-end system just doesn't feel right without an SSD at the helm. Prices are slowly tumbling, and Corsair's SandForce-based Force F90 offers immense speed at under £150.

Price: £144.41 at scan.co.uk

1TB Samsung Spinpoint HD103SJ HDD

The SSD is great as a system drive, but the 80GB capacity might not be sufficient to cope with the strain of all your movies, music and games. No problem, though, as the remedy is cheap and cheerful - throw in a 1TB HDD to increase your system capacity twelve fold.

Price: £41 at scan.co.uk

LG BH10LS30 Blu-ray Writer

It featured in our budget build, and the LG Blu-ray writer is back again. The BH10LS30 will let you read and write Blu-ray discs at 10x or standard DVDs at 16x. It's LightScribe-compatible, so you'll be able to laser etch those precious Christmas home movies, and it doesn't break the bank.

Price: £86.93 at scan.co.uk
Chassis and Power Supply

Corsair Graphite 600T Chassis

Corsair's Graphite 600T touts full-tower features in a mid-tower frame. It's a little pricey at around £130, but whilst there are cheaper alternatives on the market, the 600T is ideal for users who're in in and out of their chassis on a regular basis.

The curved aesthetics are easy on the eye, the entire chassis feels well built, and where it really shines is on the inside. Pop open the easy-access side panel and you'll find ample room for a high-end configuration, as well as drive cages that can be repositioned to suit your needs, excellent cable management facilities, and decent cooling performance, too. If you prefer a quieter computing experience, you'll also appreciate the 600T's built-in ability to tone down fan speeds.

Price: £128.78 at scan.co.uk


Corsair TX650W Power Supply

Our £1,000 budget has been stretched thin, and we've only £65.27 left to factor in a power supply. That rules out our first choice - Antec's £69 hybrid-modular TruePower New 650W - but there's just enough cash left in the kitty for Corsair's TX650W. It isn't modular, but it's renowned for its excellent voltage regulation, quiet operation and SLI/CrossFire-supporting dual 6+2-pin PCIe power connectors. Corsair's five-year warranty is also one of the longest available.

Price: £64.77 at scan.co.uk
Operating System
Microsoft Windows 7 Home Premium (64-bit)

Be it for a budget or high-end machine, Microsoft's Windows 7 Home Premium remains our operating system of choice.

Our multi-part review explains why 7 is the best Windows yet, and if you're in need of pointers on how to get the most out of the software, you'll find video tutorials, tips and tricks at the Explore Windows website.

Price: £75.28 at scan.co.uk
The sum total for the suggested high-end rig? A cool £990.55. The build crams in plenty of cutting-edge features, including hexa-core processing, current-gen graphics, solid-state storage, Blu-ray and USB 3.0, but there are hundreds of variables and no single configuration is perfect. Would you change anything? Would you approach a £1,000 build differently? Let us know and share your own suggestions in the HEXUS.community forums.
HEXUS Christmas Gift Guides 2010
*UK-based HEXUS.community members will benefit from the SCAN2HEXUS Free Shipping initiative, which will save you a further few pounds in addition to top-notch, priority customer service and technical support backed up by the SCANcare@HEXUS forum.