We recently commented that Corsair was bringing a range of new performance-oriented solid-state drives (SSDs) to the market in the form of the Extreme Series.

Differentiated from their P-series counterparts with the use of a different controller and cache, the Extreme range, encompassing 32GB, 64GB, and 128GB capacities, is now shipping.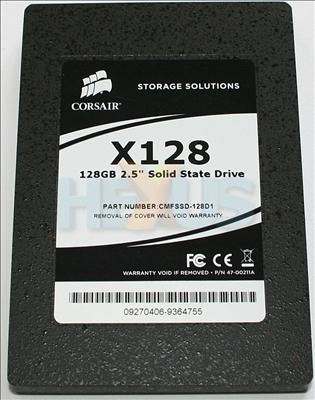 Corsair sent us the 128GB model in for review just yesterday, so we thought it would be a good idea to bust it open and run a few benchmarks.

Being the highest-capacity model, Corsair touts sequential read and write speeds of 240MB/s and 170MB/s, respectively - keeping very much in line with the competition. The 32GB and 64GB models run slower, punching at 220MB/s read and 135MB/s write.





A look at the side shows the usual SATA and power ports.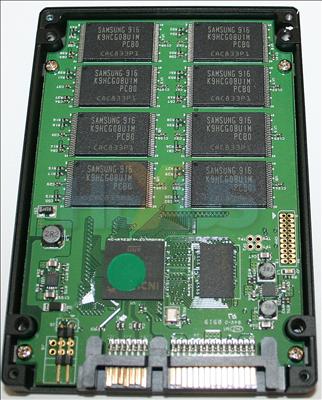 Open it up and the drive is identical to a number of others. It features 128GB of Samsung MLC memory that's coupled with a 64MB on-drive cache from Elpida - shown on the bottom-right - and a green-stickered Indilinx Barefoot controller that performs the drive-to-system magic. The P-series drives use a Samsung controller and have double the on-board cache. Like-for-like performance is roughly the same, though.

The vagaries of SSDs mean that firmware updates will prove to be crucial. As such, Corsair enables the end-user to firmware-upgrade the drive as new fixes are released. We like that.

Pragmatically, the 128GB model currently costs around £290, including VAT, which is £60 dearer than a Crucial 128GB SSD that harbours near-identical technology, and £35 dearer than Corsair's very own P128. The situation is similar in the USA, where the drive commands a $70 premium over the Crucial. Pricing will need to go down and at least match that of drive with the same guts, we reckon, especially as Intel's second-generation SSDs, plagued with a few problems right now, will be stomping in this space very soon.

We've used the X128 as a comparison drive in a portable-storage round-up, and you can find the basic eSATA/SATA results here. We'll be conducting a full review, including new vs. used performance, under Windows 7, shortly. Stay tuned for that.