Taiwanese company BenQ has been making inroads into the monitor market for a while now. From the latest curved screens to monitors accurate enough for the budding photographer, there's a screen for every usage scenario. Gaming has become more important to BenQ over the past two years, too, so to find out more about what makes the company tick and what BenQ has in store for the PC market in the coming months, we spoke to Carly Hill, UK channel product manager for LCD and gaming displays.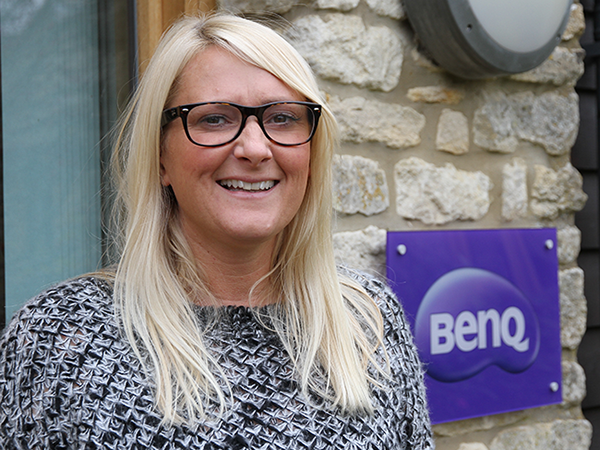 Q: Carly, tell us a little about yourself and your responsibilities within BenQ?
A: I've spent the last 15 years working in the IT industry previously at Ingram Micro, AMD and I still get a great sense of excitement working in such a fast paced market. I love the fact that we are constantly working with new products and some incredible technology. Working with BenQ, which is one of the world's largest LCD manufacturers is a privilege and challenge which I relish. Having previously worked in the distribution channel I think I am able to offer our channel customers a different level of support so that together we can ensure consumer customers can get access to our incredible LCDs. My new role as LCD Product Manager is really exciting I get to work both with my distribution partners and also some of our E-Commerce partners who help to bring the products direct to our customers. I can't believe I've been at BenQ for almost 2 years the time has flown by.
Q:) What excites you most about your job, and why?
A: Working with our HQ to bring some of the most incredible technology to market is a real thrill. We have a broad range of LCDs from Professional Colour Monitors like the PG2401PT Pro, Gaming monitors like the XR3501, and everything in between. It's a really competitive market and I still get a buzz seeing great reviews and positive customer comments from people using our technology at work, at home or playing games. It might sound cheesy but the people are BenQ are brilliant we all share a passion for technology.
Q: Out of curiosity, which screen do you use at work?
A: Over the last two years I've had a variety of BenQ monitors but the one I'm using at the moment is one of our 27in lines the GW2765HT, which is ideal for home entertainment or office work. I love the Low Blue Light Technology and it's Flicker Free so when I'm working with lots of spreadsheets and proofing adverts it's ideal and I don't get eye strain.
Q: How seriously does BenQ take the gaming market?
A: BenQ has been serious about the gaming market since the brand started. Working in this market means our R&D team have to produce LCDs with incredible response times, eye care technology like Low Blue Light and Flicker Free are perfect for gamers. We also worked closely with leading World Champion Gamers like Heaton & Spawn who helped us to develop incredible LCDs to satisfy the most demanding gamers. We also sponsor some of the leading gaming events in Europe and Asia. Our gaming teams work closely with us across the world and we're delighted to have them using our products every day and giving us feedback.
Q: Can you talk about some of the innovations and features of BenQ's latest monitors?
A: Wow it's hard to know where to start because we have an incredible range of monitors which have won numerous awards worldwide. I'd probably highlight our gaming monitors which are crammed full of some impressive technology and specs to keep avid gamers happy. With 1ms GTG Response Time, Motion Blur Reduction, Black Equalizer, fighting mode, S-Switch, Low Blue Light and Flicker Free all these have been selected to make the game play experience as effective as possible.
Q: Are technologies such as AMD FreeSync and Nvidia G-Sync necessary for today's gaming monitors?
A: At BenQ we're delighted with the innovation of new technology, anyone playing FPS games demands seamless pictures and working with both AMD and Nvidia we've been able to produce some award winning monitors that will keep gamers playing for hours.
Q: Do you think curved-screen monitors a fad, or do you believe they're here to stay?
A: Curved-screen monitors give consumers a different viewing experience. Whether you are playing a driving game or watching a movie you get a more immersive experience which just makes the time spent more enjoyable. Our XR3501 is a big screen and it's incredible value for money as HEXUS readers already know from your review.
Q: Are we likely to see 4K, 120Hz monitors from BenQ anytime soon?
A: Our R&D team are busy working on our 4K, 120Hz monitors as we speak. We cannot wait for our range to come out once the refresh rate is updated so that serious gamers will enjoy the experience of these new monitors.
Q: Are you worried about the impact of virtual-reality headsets on gaming-monitor sales in the years to come?
A: No we are not worried we've seen over the last few years that gamers are a very passionate group who love playing games on their PC. Whilst new technology arrives we feel the gamers will still retain their love for PC gameplay and monitors are a vital part of the experience.
Q: Why should our readers buy BenQ instead of other brands such as Asus, Philips, AOC, et al?
A: BenQ's range offer professional gamers and enthusiasts the chance to experience a range which has been designed by professionals for Gaming Champions. Our gaming range has more gaming features and technology than our competitors and the awards we've won give us the independent credibility to back up this confidence in our range.