Rumours of a Microsoft Surface smartphone began to bubble up not long after the first Surface tablet was launched. As WMPU reports, such a smartphone was first in the news around three years ago when a device codenamed Project Juggernaut Alpha appeared in GPS logs around Microsoft's campus in Seattle.
Yesterday new details concerning this 'mythical' smartphone were published by WMPU. The Windows Mobile orientated news website got a tip off from its sources, spilling a pretty comprehensive list of tech specs for the rumoured Microsoft Surface smartphone. It also published a screenshot said to come from the same device being tested with a preview build of Windows 10 Mobile.
The new Juggernaut Alpha must be significantly upgraded from the three year old apparition that never got released. WMPU says that the following list are its key hardware specs:
Display: 1440×2560 16:9 AMOLED 5.5″ ClearBlack Gorilla Glass 4
Processor: Intel Atom x3 (SoFIA) 64-bit
Camera: Back: 21MP PureView Zeiss 6-lens Front: 8MP Zeiss Wide-Angle
RAM: up to 4GB RAM (lower end with 3GB and higher end with 4GB)
Operating System: Windows 10 Mobile (Current revision of the device is running 10.0.10514.19)
Storage: Options will include 64GB and 128GB with MicroSD Expansion up to 256GB
Surface Pen (Similar to Note 5),
USB Type-C
Wireless Charging
Aluminium & Magnesium unibody
Further information gleaned from WMPU's report says that the handset isn't yet able to run Win32 apps.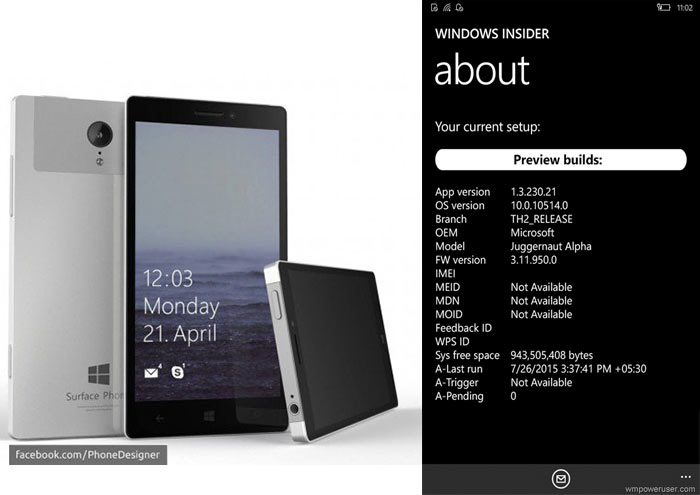 I'd like to see a Surface smartphone with an Intel or AMD x86 processor. However the above specs and rumours are all we have to go on right now and they're only from one source. Picking through some of the key specs, the current Intel Atom x3 (SoFIA) 64-bit processor isn't able to support other key hardware purportedly in the device such as; the screen (resolution) and camera (pixels), nor USB 3.0 or dual-screen Continuum productivity. If the essence of the rumour is correct it is possible that when the Surface smartphone appears there will be a newer Atom x3 from Intel to support the rest of the spec, or another more powerful processor will be employed.
We do expect to see some new Microsoft smartphones soon, but probably not this Surface Mobile. IFA starts on 5th September and Microsoft will be there rubbing shoulders with LG, Samsung, Sony, Motorola, HTC, Huawei and other key mobile technology players.