A research report by IDC highlights the first-ever yearly decline for the tablet since it took off with the original Apple iPad launch in 2010. During Q4 2014 quarter, overall tablet and 2-in-1 sales experienced a slide of 3.2 per cent year-over-year. On a brighter note, shipments for the full year 2014 were still able to show modest growth, increasing 4.4 per cent to 229.6 million units.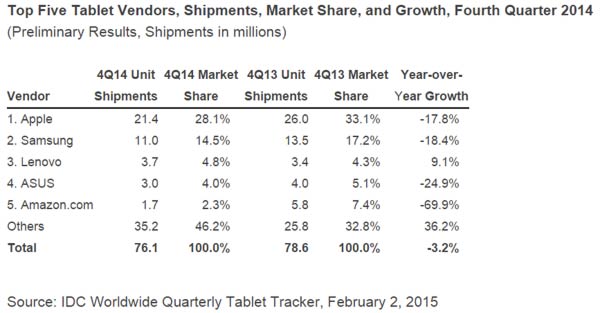 "The tablet market is still very top heavy in the sense that it relies mostly on Apple and Samsung to carry the market forward each year," said Jitesh Ubrani, senior research analyst for IDC's Worldwide Quarterly Tablet Tracker. "Although Apple expanded its iPad lineup by keeping around older models and offering a lower entry price point of $249, it still wasn't enough to spur iPad sales given the excitement around the launch of the new iPhones."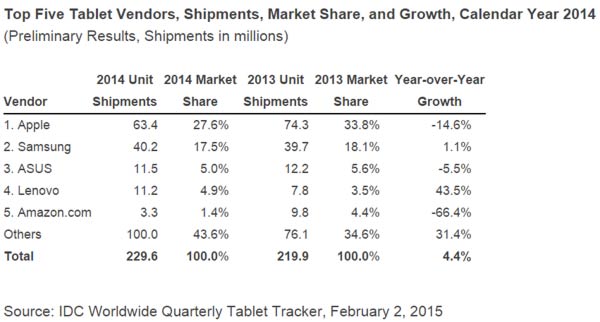 The struggle has hit the market leaders as both Apple and Samsung saw year-over-year declines in tablet sales. For instance, Apple saw its tablet shipments fall from 26 million in Q4 2013 to 21.4 million units in Q4 2014. It also saw its tablet market share decrease from 33.1 per cent to 28.1 per cent, though was able to retain its position as the world's top tablet maker.
Samsung managed to hold on to the second place with 11 million units shipped and 14.5 per cent of the market, a decline from 13.5 million units and 17.2 per cent share from Q4 2013. The Korean giant is feeling the pressure "as low-cost vendors are quickly proving that mid- to high-priced Android tablets simply aren't cut out for today's tablet market," according to Ubrani. Rounding out the top five under Apple and Samsung are Lenovo, ASUS and Amazon, shipping 3.7 million, 3 million and 1.7 million units, respectively.
Out of the top five vendors, Lenovo was the only firm to post growth during the fourth quarter. The Chinese maker's slate sales grew 9.1 per cent year-over-year thanks to a portfolio that covers most screen sizes on both Android and Windows, and the success of its low-cost offerings.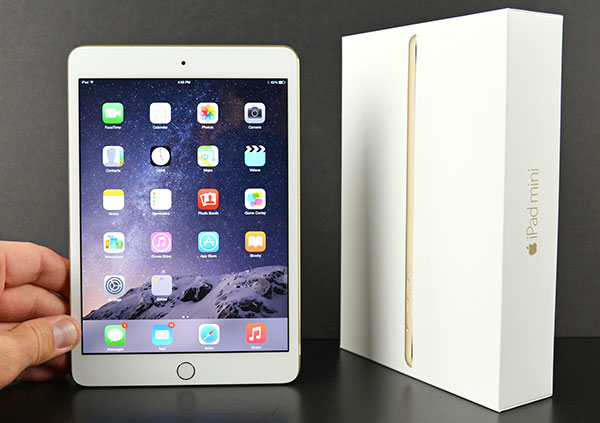 IDC still remains hopeful about the future of the tablet market, stating that the situation will become clearer in the next few quarters. "Despite an apparent slow-down of the market, we maintain our forecast about tablet growth in 2015," Jean Philippe Bouchard, IDC tablet research director, said in a statement. "Microsoft's new OS, a general shift towards larger screen form factor and productivity-focused solutions, and technology innovations such as gesture interface that could be introduced in tablets will help the market maintain positive growth in 2015."
2-in-1s like the ASUS T100 and new Transformer Chi range are included in IDC's tablet shipment numbers.