Last night in San Francisco Apple launched two new iPad models, largely in line with expectations. Both models got significant upgrades. The new 9.7-inch model has been Christened the iPad Air and been considerably slimmed down as is appropriate for a device with that suffix – now it is only 7.5mm thick and weighs less than 0.5Kg. Meanwhile the iPad Mini with Retina Display got the high ppi screen that people seemed to be waiting for as well as a big processing performance boost.
Apple iPad Air
This model replaces the regular 9.7-inch iPad from 1st November and will cost from £399. While the changes to what it is and what it does are evolutionary Apple has done a great job on slimming down its flagship tablet while increasing its capabilities and processing power. I've used both a regular iPad and a current generation iPad mini and the bigger model felt unweildy after using the mini for a while.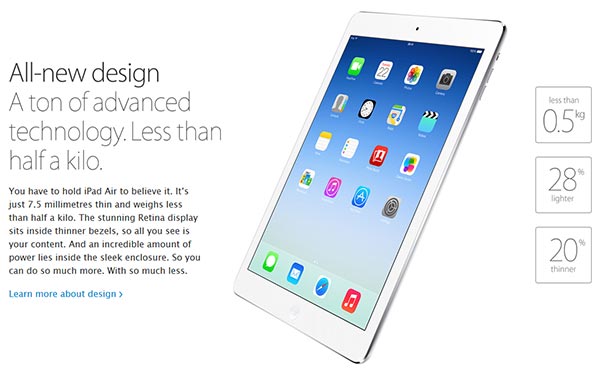 The new iPad Air is so light and thin "You have to hold iPad Air to believe it," says Apple. The stats are impressive; it is just 7.5mm thick and weighs under a half kilo. Screen bezels have also been reduced. Now you have a full-sized iPad with a screen size that might be of greater utility to you which is much more comfortable to hold for extended periods.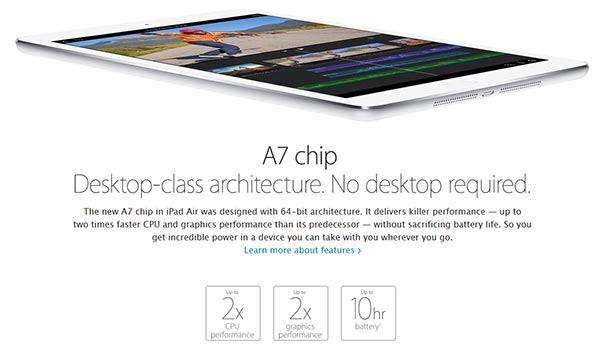 Apple boasts about the use of the 64-bit A7 chip and M7 co-processor providing "Desktop-class architecture. No desktop required." In this full sized iPad that means that you can get twice the CPU performance, twice the graphics performance yet the 10-hour battery life of the device remains.
An analyst speaking to Computer World said that such a powerful processor was justified in an iPad, more so than in the latest iPhones, as real productivity tasks such as home movie making are much more likely to be done on a tablet. Another analyst told the magazine that the Silicon in the latest iPads is "out ahead of the software". Now the 64-bit processor is in an iPad tablet apps are more likely to be designed to use it.
The iPad Air also got a wireless boost with two antennas and MIMO technology. Some smart cases and smart covers were announced but no official type covers emerged, despite rumours, last night.
Apple iPad mini with Retina display
The iPad mini has received a big boost to both screen pixel density and processing power to become the iPad Mini with Retina display. This new 7.9-inch tablet won't be available until "later in November," starting from £319. Before its announcement there were all sorts of supply-chain rumours about there not being enough displays available but it looks like Apple has managed to get manufacturing in order. The new iPad mini has actually got a little bit bigger and fatter than the first version. However it is a hardly noticeable 0.3mm thicker and 0.2mm wider.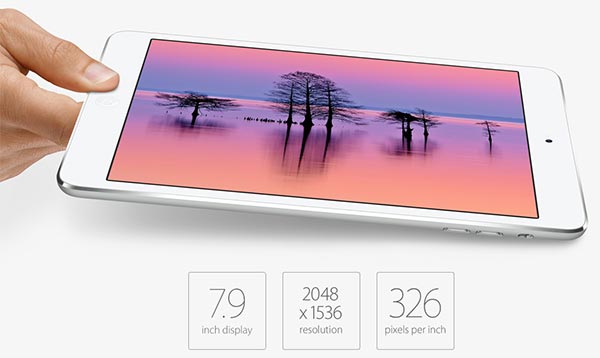 Obviously the new iPad mini gets a Retina display. This packs 2048x1536 pixels into 7.9-inches to provide 326ppi. The original iPad mini was a bit of a let-down for some people as it stuck with the 1024x768 display resolution of the iPad 2, despite being launched alongside the iPad 4.
Likewise the CPU improvement in the new iPad mini is a very significant and an arguably more needed upgrade. The iPad mini will still boast 10 hours battery life but the new A7/M7 processing will boost it to up to 4 x CPU performance and up to 8 x graphics performance.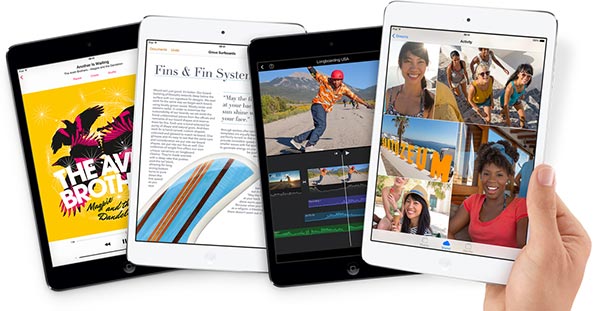 While the main camera resolution is unchanged at 5 megapixels Apple has improved the sensor for low light performance. There is still no built-in flash. This mini iPad also got the same dual antenna Wi-Fi upgrade and choice of smart covers and smart cases as its big brother.