Microsoft intended to release the Surface Pro around 90 days after the Surface RT was launched. That was 26th October 2012. If it followed that timetable with any degree of accuracy we would be able to get our hands on a Microsoft Surface Pro next week! There's no news about the launch date on the Microsoft Surface Pro US web page, it just states "coming in early 2013". But even that is more specific that the UK website which simply says "coming soon". Yesterday, Panos Panay, general manager of Microsoft's Surface products let slip a tweet suggesting the Surface Pro will indeed be on its way, also rather ambiguously, within weeks.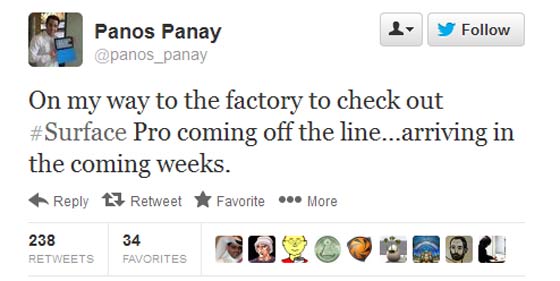 The Microsoft Surface with Windows 8 Pro is highly anticipated as it combines Microsoft's stunning new VaporMg encased hybrid tablet design with a computer architecture that is capable of running all your Windows programs from its desktop. As Microsoft puts it "Surface with Windows 8 Pro is all new, and yet you can do everything you've ever done on your PC. Touch-enhanced applications run as smoothly as your favourite desktop software, so you can work the way you want."
The Surface Pro will be available in two versions when it does arrive, they are differentiated by their storage capacities. In the US, where pricing has been announced already, the 64GB Surface Pro will retail for $899 and the 128GB version will be $999. That's standalone, not including either a touch or type cover.
The Microsoft Surface Pro specs, as a reminder are as follows:
CPU/GPU

3rd Gen Intel Core i5 Processor with Intel HD Graphics 4000

Display

10.6" ClearType Full HD Display, 1920x1080 pixels, 16:9 (widescreen), 10-point multi-touch + pen input with pen supplied

RAM size

4GB RAM—Dual Channel Memory

Ports and networking

Full-size USB 3.0, microSDXC card slot, Headset jack, Mini DisplayPort, Cover port

Wi-Fi (802.11a/b/g/n), Bluetooth 4.0 Low Energy technology

Cameras and A/V

Two 720p HD LifeCams, front- and rear-facing with TruColor, Microphone, Stereo speakers

Storage

64GB or 128GB

Sensors

Ambient light sensor, Accelerometer, Gyroscope, Compass

Dimensions

13.5mm thick and 900g

Power

42Wh battery, 48W power supply (including 5W USB for accessory charging)
Looking though the above table you can see the Surface Pro has quite a lot of upgrades compared to the Surface RT. The Surface Pro doesn't trump the Surface RT on every count though. If you are happy with what Windows RT offers to you, you can; save money, have a lighter thinner tablet and also enjoy better battery life.

As soon as we hear about availability, and especially UK availability, for the Microsoft Surface with Windows 8 Pro we will let you know.