On the eve of the Computex, Taipei ICT exhibition Acer has released some details of its two new tablets which are going to be on show. The Acer ICONIA W510 and ICONIA W700 will be Acer's Windows 8 tablet pioneers.
The ICONIA W510 isn't very far removed from the current Acer Windows 7 tablet the ICONIA TAB W500. The model number hints at an evolutionary change rather than a revolution. Similar in the way the Android based ASUS Transformer series works, the ICONIA W510 comes with an attachable keyboard which converts the tablet into a clamshell notebook or flips back to become a presentation device. Acer calls this flexibility "tri-mode, allowing users to touch, type and view". The keyboard / dock also has its own battery and will extend the battery life of the whole unit up to 18 hours. The ICONIA W510 has a 10.1" IPS touchscreen.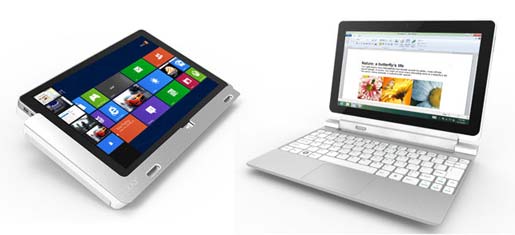 The ICONIA W700 is an 11.6" full HD screen tablet with "Dolby® Home Theater® for multimedia pleasure". Acer says this is a Windows 8 tablet designed for optimum performance. The ICONIA W700 has a multipurpose cradle allowing the tablet to be connected in landscape or portrait orientations and at angles optimised for viewing or for touch interaction. Users will have to source their own keyboard for use with the W700 as there isn't one as part of the package. The price of the ICONIA W700 is set to be in the range of $800 to $1000 USD.
The press release doesn't offer many more details for these two tablets but Pocket-Lint says the W700 has three USB 3.0 ports, Thunderbolt and micro HDMI. PC World say both new tablets are Intel based so they will be able to run full Windows 8, not limited to Metro apps like the tablets using ARM processors. In particular the ICONIA W510 uses an Intel x86 SoC design. As the "performance" model we can expect the ICONIA W700 to be powered by an Intel Core processor. More details and specifications will be forthcoming when Acer shows off the tablets at Computex this week.