OnLive may be best known for its online PC game streaming service, but the company has plans that go far beyond running Crysis on a netbook. Talking at the Dive Into Mobile conference yesterday, CEO Steve Perlman showed some of the things that his company is working on and gave a glimpse into where it might all be heading.
Apparently gaming - with its exceptionally low tolerance for latency - is by far the most difficult use of OnLive's technology, so moving other applications onto the service is a relatively easy next step.
The first demonstration had Perlman using the recently launched OnLive viewer for the iPad to connect to a virtualised Windows 7 computer running Internet Explorer on a Flash heavy site. He then showed a Samsung Galaxy Tab that was 'spectating' the same site in real time. The entire process was very smooth with barely any lag, despite the heavy lifting being handled by a computing cluster some 50 miles away.
For the next demo, the CEO connected to a system running Maya - a high-end 3D modelling tool. The software - which can only be run on very powerful workstations and supercomputers - allowed Perlman to seamlessly navigate and edit a detailed model in real-time from his iPad with only a lightweight streaming app installed. And while the smartphone running Android could only spectate and chat at this point, future versions of the software will allow real-time collaboration between users on different devices.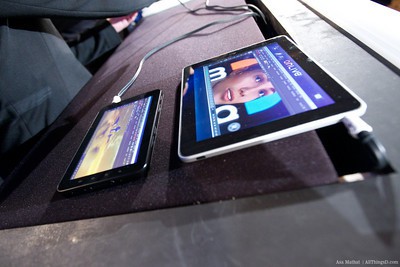 As impressive as OnLive's demos were - and they were very impressive - they were blown out of the water by the company's aspirations for the future. Perlmann sees the platform as a gateway towards ubiquitous and collaborative computing through low-power devices. Provided they have an internet connection - be it 4G, WiFi or wired - anyone has the potential to use high-performance computers running expensive software from anywhere in the world and for a relatively low price.
Although he was coy on the prospect, Perlmann also hinted that the company might get into movie streaming, with the platform enabling a greater level of interactivity than is currently available with streaming services.
Obviously OnLive is a relatively small company and these sorts of lofty goals are still a long way off. Nonetheless, the already mature technology platform is bound to impress when application streaming eventually launches. For now, iPad owners will have to make do with spectating games on the recently launched viewer app.