As MWC week comes to a close it's interesting to see a new report from the International Data Corporation (IDC) warning of a sharp decline in smartphone growth this year. The research is published in IDC's Worldwide Quarterly Mobile Phone Tracker. Worldwide shipments are expected to slow to single digits in a couple of years; we will see 8.3 per cent annual growth in 2017, sinking to 6.2 per cent by 2018. In North America, Europe and Japan we may be in the single digits this year.
The smartphone business has been doing a roaring trade with sales surpassing 1 billion for the first time in 2013, achieving a 39 percent year-over-year growth. However IDC says that 2014 will become the year where smartphone growth declines more significantly then ever previously, precipitating a 19.3 per cent year-over-year growth worldwide, with a total of 1.2 billion shipments.
High growth is still expected in several emerging markets, but growth in near saturated markets such as North America and Europe are said to drop to single digits, with Japan showing the possibility of contracting slightly. "In North America we see more than 200 million smartphones in active use, not to mention the number of feature phones still being used," said Ryan Reith, Program Director with IDC's Worldwide Quarterly Mobile Phone Tracker. "2014 will be an enormous transition year for the smartphone market".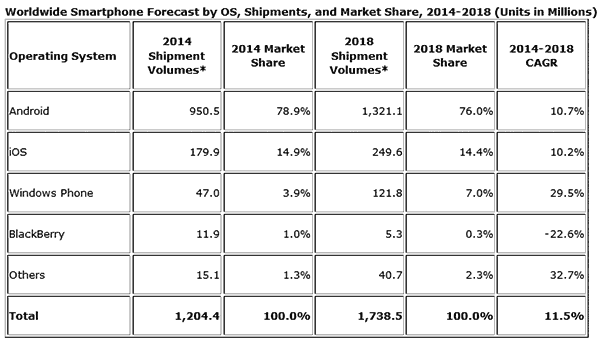 However, some industry watchers have disagreed with the downbeat forecast, for the North American market particularly; "Around a third of U.S. consumers still have feature phones, and new apps and features make moving to smartphones more attractive every year. We see no evidence that demand is slowing,"said Carl Howe, Yankee Group analyst.
IDC has said that we will also see a change in the driving forces behind smartphone adoption in the near future, where new markets will "bring different rules to play by and 'premium' will not be a major factor in the regions driving overall market growth." I think we can already see the different rules coming into play as price becomes more of a factor, even at the high end and lower-middle market hardware gets much more capable. The average selling price for a smartphone is expected, by market analysts, to drop from what was $335 (£200) in 2013 to $260 (£160) by 2018.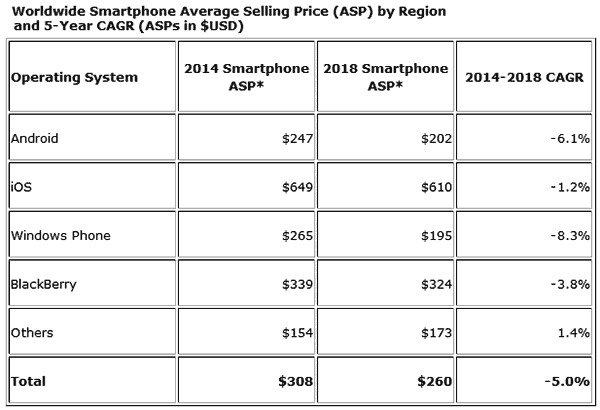 "In order to reach the untapped demand within emerging markets, carriers and OEMs will need to work together to bring prices down," said Ramon Llamas, Research Manager with IDC's Mobile Phone team. "Last year we saw a total of 322.5 million smartphone units ship for under $150 and that number will continue to grow going forward. We've already seen numerous smartphone announcements targeting this priceband this year, with some as low as $25 (£15)."
Further predictions include Google Android's continued dominance with more than 75 per cent of global sales into 2018 whilst Apple's iOS will stay in second position with a market share of 15 per cent. The Windows Phone platform is also expected to nearly double its market share from now to 2018, making it the fastest growing OS. Meanwhile BlackBerry's market share goes from its current 1 per cent to 0.3 per cent in 2018.