What is it about?
It's that time of year once again for the annual outing of the Moto GP franchise, which gives you access to all the riders, tracks and teams from the official 2009 MotoGP season and also throws in some DLC from the outset unlocking full data for the 2010 season.

Review
Moto GP 09/10 represents the biggest push forward for the franchise in the last couple of years with loads more content and a solid online component that now caters for 20 players, but it still all feels a little unpolished.

Compare it to other racing games and you'll immediate notice that the presentation, from the boring menu screens to the lack of detail in the bike designs, isn't all that great. It would have benefited greatly from a little bit more gloss and attention to detail.

There is, however, a wealth of content to get through, including Career and Time Trial Modes, plus the new addition of an Arcade mode. In addition to racing around the official Moto GP circuits jostling for leader board position, Career mode gives you management control off the track to make decisions on the likes of sponsorship deals to promote your team. We found it a little lack-lustre having to research technology and hire staff to give you a helping hand, but fans of the sport may well enjoy the extra details.

On the track, Moto GP performs averagely as an arcade-style racer and though the control scheme is basic it's takes a bit of getting used to to follow racing-lines with precision or over-taking multiple riders without crashing into one of them -- it's a delicate control scheme that requires skill to master. When you ride with the lower class engines the races lack speed and intensity, but once you get to 800cc class it gets a lot more exciting. The Kudos system impressively adds an extra layer of challenge on top of trying to simply win the race by rewarding you with skill and style points that add to your reputation. It means you'll be willing to take that extra risk for the reward, so races can be unpredictably exciting.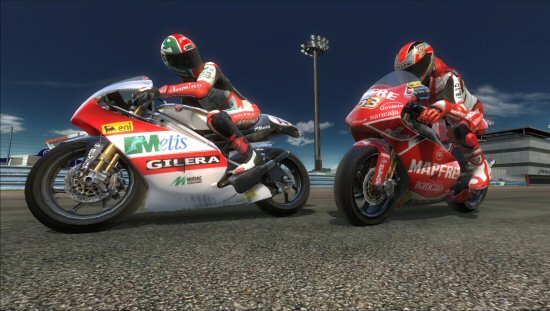 'Arcade' mode offers something a little different to the standard campaign mode also, allowing you to compete against the clock in challenges to earn bonuses. It's a welcome addition that will give Moto GP fans something extra to strive for, and it's good practice for when you have to put all your skills together for tackling some of the best riders from around the world in multiplayer.

And after you've finished with the offline modes, it's the online multiplayer that offers the most replay value. Impressively, you can now race with 20 riders; and though we've yet to ride around any of the circuits with that amount of players, we have raced with 16 and it's been a smooth, lag-free experience.

Moto GP isn't a Forza of the motorbike racing world by any means, but it's an accessible racer that seems to be heading in the right direction. It's not quite there yet, but fans of the sport should get plenty of enjoyment out of the amount of content available this year. You do actually get quite decent value for money in this year's Moto GP because you can download content immediately that updates bikes, riders, team liveries and tracks for the new season. You already have the 2009 data, so in effect you're getting two years of Moto GP for the price of one. Not bad, but certainly lots of room for improvement.

Pros
The Kudos system adds a new layer of challenge and excitement.
Online now stretched to 20 players.

Cons
Poor presentation.
Career mode lacks excitement, managing is boring.