Open up your creativity
I should also mention that game-making isn't the only constructive element on offer here. You also get to compose music with 64 different instrument sounds to choose from (not including the 112 percussion sounds). You can also design short black and white cartoons with the comic creator, utilising different stamps for landscapes, speech bubbles and even WarioWare characters. Within just a few short minutes you can easily whip up something you're more than proud to show your friends.

There are 5 key areas in the game: D.I.Y. Shop, the main game-play area; D.I.Y. Studio, where you'll be making your micro-games; WarioWare, Inc. featuring training exercises; Distribution Centre, used for uploading your creations to the Nintendo Wii after an additional purchase of WarioWare: D.I.Y. Showcase (available for 800 points from the Wii Shop Channel) and last of all, the Options Garage, home to the options obviously!

The bundled micro-games are excellent fun and very addictive. There's potential for enormous amounts of creativity, designing and building your own games. The menus are all cleverly laid out, easily conceived and very enjoyable to navigate. The 2D graphics are well suited to the stylings of the WarioWare series and everything does its job to bring together one great addition to the Nintendo DS library. The only downfall is that the software offers a rather limited range of actions that you can perform, most of your games can only be controlled by tapping the screen which can get a little boring.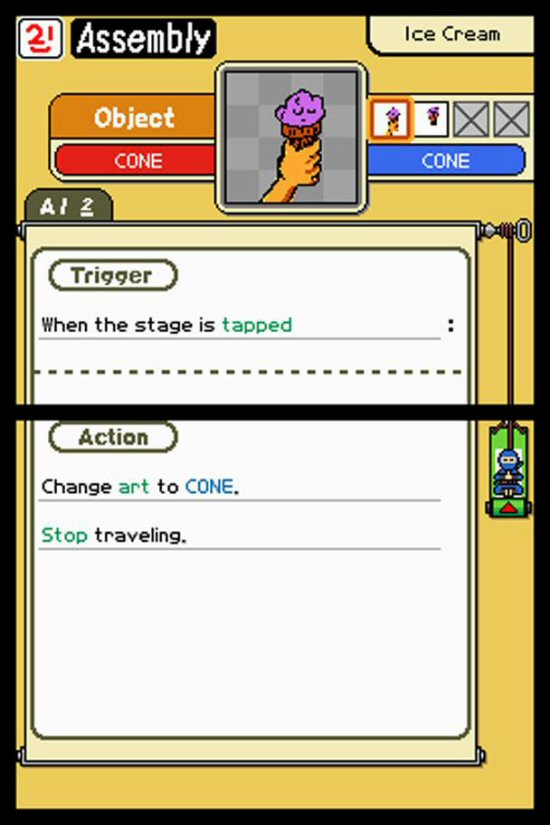 Overall, WarioWare D.I.Y. is possibly not the best choice for pick up and play gamers but those with more time to spend will find themselves caught up in a world of micro-game creativity.