90 pre made micro games
The basic concept of any WarioWare title is to solve a selection of 5-10 second micro-games before the timer hits zero. Most of the fun comes from working out exactly what it is you have to accomplish and then going about it as fast as humanly possible (without drawing blood).

In WarioWare D.I.Y. there are 90 pre-made micro-games with a new batch unlocked automatically each day for you to play through, but even more interesting than that, every single one of the games was created using the bundled micro-game maker, meaning that you can remake, redesign and even create your very own games!

As the title D.I.Y or Do It Yourself entails, the premise of WarioWare D.I.Y. is the Super MakerMatic 21, which allows you to create short touch based games. To make micro-games, the process has been broken down into three main components: Drawing, Music, and Programing. If you're not overly great at drawing or mixing up a tune like me, don't worry because included are a number of tools to help out, such as stamps, an automatic composer and a series of very useful tutorials. The game making process is fairly short, the tutorials are humorous and easily understood plus the menus are very simple to navigate. It didn't take me long before I had a pretty decent whack-a-mole style game up and running.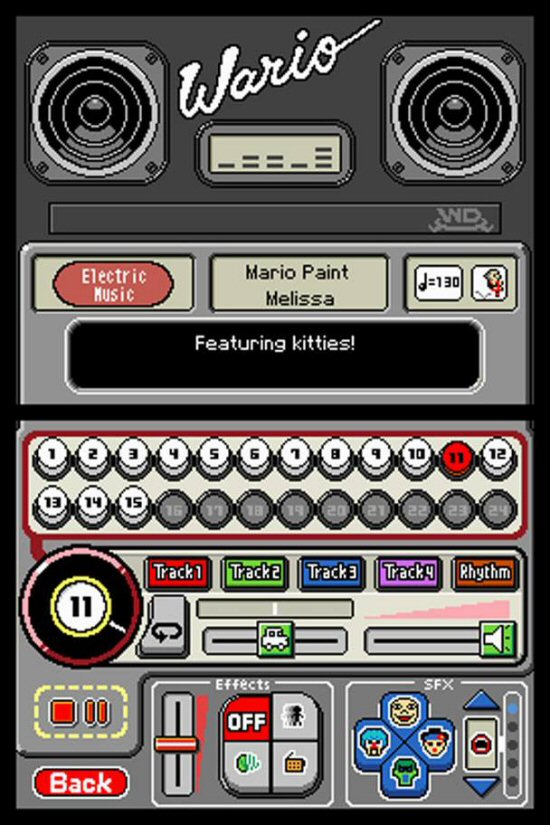 Continued overleaf...