Following its successful E3 showcase Sony has revealed the full specs of the PlayStation 4 console, the DualShock 4 wireless controller and the PlayStation Camera. Many of these specs were revealed previously, rumoured and or leaked so it's good to have them all in one place in a definitive document.

Design
Sony informs us that "The internal design architecture of the PS4 system, from the optical drive and power supply unit to the cooling mechanism, has been pursed to keep the body as slim and light as possible to dramatically enhance the flexibility of the design." The company then goes on to talk about the aesthetics and how its overall appearance help it "fit perfectly wherever it is placed".

Sony PlayStation 4 specifications table
Product name

PlayStation®4 Jet Black

Product code

CUH-1000A series

Recommended retail price

US$ 399, Canada$ 399, € 399, and £ 349

Main Processor

Single-chip custom processor
CPU : x86-64 AMD "Jaguar", 8 cores
GPU : 1.84 TFLOPS, AMD next-generation Radeon™ based graphics engine

Memory

GDDR5 8GB

Storage size

500GB Hard disk drive*1 (user replaceable)

External dimensions

Approx. 275×53×305 mm (width × height × length)
(tentative, excludes largest projection)

Mass

Approx. 2.8 kg

BD/ DVD drive (read only)

BD × 6 CAV
DVD × 8 CAV

Input/ Output

Super-Speed USBx (USB 3.0) port × 2
AUX port × 1

Networking

Ethernet (10BASE-T, 100BASE-TX, 1000BASE-T)×1

IEEE 802.11 b/g/n

Bluetooth® 2.1(EDR)

AV output

HDMI out port
DIGITAL OUT (OPTICAL) port

Included

PlayStation®4 system × 1
Wireless Controller (DUALSHOCK®4) × 1
Mono headset × 1
AC power cord × 1
HDMI cable × 1
USB cable × 1
On the spec vs price issue a Eurogamer report says that Sony will be "taking a substantial financial hit on this investment" and that these consoles, at the suggested retail prices must be selling close to, or even below, cost price. Over the longer term with tech component prices dropping and manufacturing scale Sony should be able to make this strategy pay off.
Over 140 Games in the pipeline
Sony says that including headlining games such as Destiny from Bungie, Diablo III from Blizzard Entertainment, KINGDOM HEARTS III and FINAL FANTASY XV from SQUARE ENIX, Assassin's Creed IV Black Flag and Watch Dogs from Ubisoft Entertainment, NBA 2K14 from 2K Sports, The Elder Scrolls Online from Bethesda Games Studios and Mad Max from Warner Bros there are over 110 third party games being produced at this time.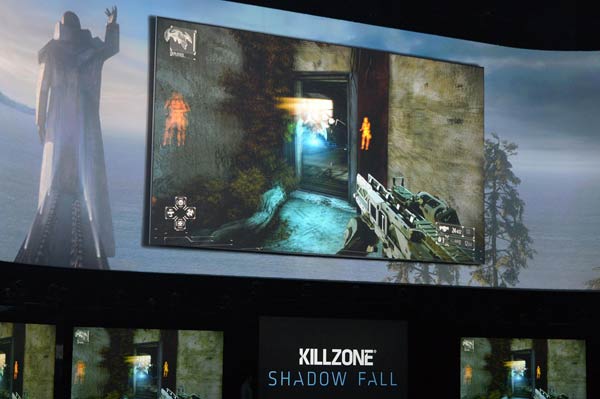 Sony also announced that its own SCE Worldwide Studios is working on over 30 new PS4 titles including 12 brand new IPs (20 of which will be available on the PS4 launch date).
Amazon pre-order success
Games industry trade news mag MCVUK has published an interesting little story about the winds of change in console pre-orders since E3. Shortly following news emerging from both Microsoft's and Sony's E3 presentations the Amazon pre-order landscape has been turned upside down. A couple of days ago The Xbox One was in the lead by a slim 2.4 per cent.
Now the situation is reversed with the Sony PlayStation 4 in the lead. However there is no data available from any sources on the extent of the swing. The pre-order chart at ShopTo.net also has the PS4 in the lead. If the general mood of the video game console buying public is anything like that of HEXUS readers the swing will have been quite a large one.