Now available in the UK and Europe, the PlayStation 3D display supports both conventional 2D/3D visuals and an innovative Sony feature called SimulView. Simply put, SimulView allows two players to share the same screen. However it's not split screen in the traditional sense, each player gets the full screen area for their gaming but has a different view of the action through their active shutter 3D glasses. Thus, Sony says, SimulView gaming is not "compromised" by a halving of the visible screen area.
This first PlayStation 3D display is a 24" 1080p model with the following attributes;
Display type: Stereoscopic 3D HDTV
Screen size: 24"
Resolution: 1080p (1920 x 1080)
Colors: 16.7 million
Contrast ratio: 5000:1
Backlight type: Edge LED, white LED
Digital inputs (side): 2 HDMI, 1 component
Refresh rate: 240 Hz
Sound output: speakers (3W x 2), subwoofer (1 x 5w), 3.5 mm headphone jack (1)
Remote support: IR remote control with BD remote control (sold separately)
Dimensions: 29.75"(w) x 17.06"(h) x 4.50"(d)
The glasses
3D glasses
Type: Active Shutter 3D
Rechargeable battery life: 30 hr.
Dimensions: 3" (w) x 7-1/8" (h) x 2" (d)
SimulView will require that each player has a pair of 3D glasses. Sony says that there are over 30 POS3 titles supporting 3D at this time and also the following games with SimulView capability; MotorStorm Apocalypse, Super Stardust HD, Killzone 3 and Gran Turismo 5. The last two of those games are included free with the display, as is a stand, 2 sets of glasses and an HDMI cable, making the deal price a little sweeter (£449).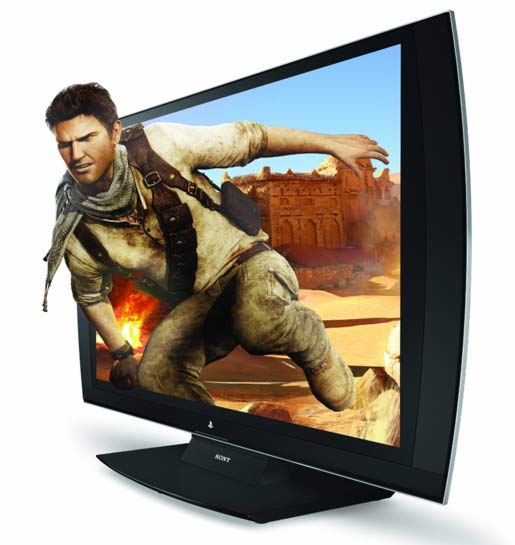 Is it as good as it sounds? Luckily some other areas of the world have had the monitor available for a short time before Europe so there is a review available on the New Zealand Stuff Magazine site. They only rate the product at a score of 2.5/5. Irksome attributes of the display include the following; no remote control supplied, screen darkness in 3D mode, headache inducing visuals and the poor sound quality of built-in speakers. A bit of a disappointment at such a high price I think.