Bethesda has announced the first details of the DLC headed for the Fallout 4 universe. The range of offerings include new missions, new features and a whole new location - said to be the biggest landmass add-on ever for a Fallout game.
Automatron, Wasteland Workshop, and Far Harbor will arrive in March, April and May respectively. The add-ons are not just a series of me-too DLC mission packs but all offer something different and appear to be priced depending upon the development time that has gone into them.

In chronological order, Automatron is a $9.99 USD | £7.99 GBP | $16.95 AUD expansion coming in March. In this DLC you will be faced with the task of hunting down a horde of evil robots and harvesting their parts to build your own custom robot friends. Hundreds of permutations are promised as is an "all-new lightning chain gun".
Wasteland Workshop is a $4.99 USD | £3.99 GBP | $7.95 AUD expansion that will arrive in April. With this expansion you will be able to design and set traps for wasteland creatures. Your captive creatures could be tamed and put to use, or made to fight each other or against other settlers.
Far Harbor steps up the DLC expansion price, coming in at $24.99 USD | £19.99 GBP | $39.95 AUD bought as a one-off. According to Bethesda this DLC features "the largest landmass for an add-on that we've ever created, filled with new faction quests, settlements, lethal creatures and dungeons". Far Harbor is a 'mysterious island' situated off the coast of Maine. Due to a higher level of radiation the creatures here are more bizarre and feral. On the island there is a growing conflict between synths, the Children of Atom, and the local townspeople to contend with.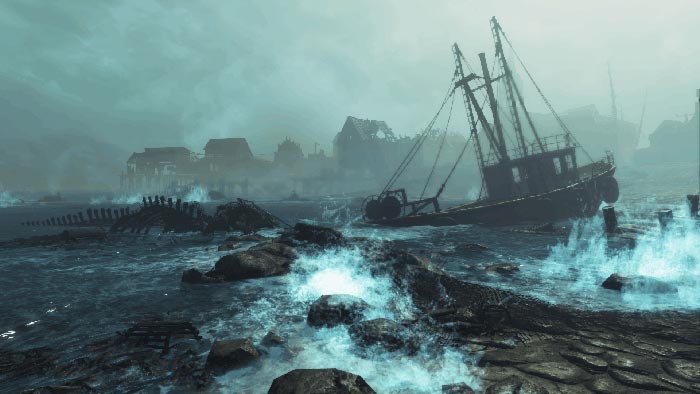 Beyond its DLC endeavours, Bethesda has announced that it is "hard at work on the Creation Kit", which will allow you to create and play mods absolutely free. It continues to refine the game in other free updates; providing greater weapon debris effects for PC, and increasing draw distances for consoles, for example.
Season pass price hike
Last but not least, Bethesda has announced a price hike coming to the Fallout 4 Season Pass. The firm says that due to the expanded DLC plan the price of the season pass will increase from the current $29.99 to $49.99 USD (£24.99 to £39.99 GBP; $49.95 to $79.95 AUD). However there's still time to grab the Season pass at its current price (until 1st March) and of course those already on board will get the expanded comment thrown in - as a thanks to loyal fans.