The release of EA's Titanfall game, exclusive to Microsoft's Xbox consoles and PCs, has seen the sales of the Xbox One console almost double in the UK. The latest GfK Chart-Track figures for retail sales show that Xbox One console sales have jumped 96 per cent, largely thanks to the new blockbuster mech battling FPS title.
Titanfall is also the fastest selling game of 2014 – already doubling FIFA 14's sales tally a game which had been leading since week one. Meanwhile another highly anticipated title, Namco Bandai's Dark Souls II, debuted in the charts at position two.
Drilling down into the figures supplied by GfK Chart-Track, the Xbox One Titanfall bundle accounted for 70 per cent of all Xbox One consoles sold last week. It must be noted that the Xbox One got a £30 price cut in the UK too. UKIE's number crunchers suggest that the new IP will be very welcome for EA as it's the publisher's first title which isn't a FIFA title to be at No.1 in the UK charts since the first week in March 2013, when Crysis 3 claimed the top spot.
UK Top 40 Entertainment Software – Week 11
TITANFALL - ELECTRONIC ARTS
DARK SOULS II - BANDAI NAMCO GAMES
SOUTH PARK: THE STICK OF TRUTH - UBISOFT
THE LEGO MOVIE VIDEOGAME - WARNER BROS. INTERACTIVE
THIEF - SQUARE ENIX EUROPE
FIFA 14 - ELECTRONIC ARTS
PLANTS VS ZOMBIES: GARDEN WARFARE - ELECTRONIC ARTS
CALL OF DUTY: GHOSTS - ACTIVISION BLIZZARD
MINECRAFT: XBOX 360 EDITION - MICROSOFT
BATTLEFIELD 4 - ELECTRONIC ARTS
ASSASSIN'S CREED IV: BLACK FLAG - UBISOFT
YOSHI'S NEW ISLAND - NINTENDO
LEGO MARVEL SUPER HEROES - WARNER BROS. INTERACTIVE
GRAND THEFT AUTO V - TAKE 2
ALIENS: COLONIAL MARINES - SEGA
RAYMAN LEGENDS - UBISOFT
FORZA MOTORSPORT 5 - MICROSOFT
NEED FOR SPEED: RIVALS - ELECTRONIC ARTS
PAC-MAN AND THE GHOSTLY ADVENTURES - BANDAI NAMCO GAMES
KILLZONE: SHADOW FALL - SONY COMPUTER ENT.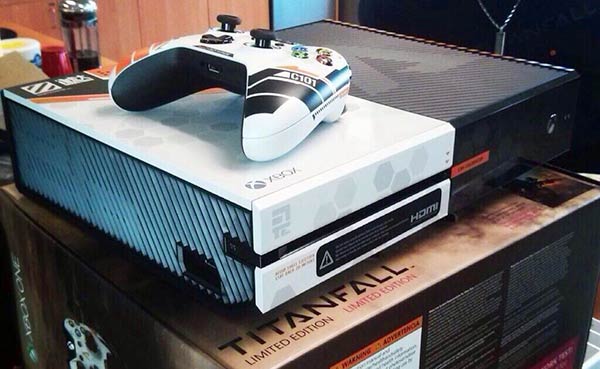 The bundle (top) includes a standard black console, not one of these.
Xbox 360 gamers will be able to get their helping of Titanfall in just over a week, the game is released for their console of choice on Friday 28th March. Also remember that the Xbox 360 still shifts lots of software – in February there were 772,000 games sold for Xbox One but 2.46 million sold for the Xbox 360. The Xbox One and Xbox 360 hold a joint market share of 48 per cent according to a recent post on Microsoft's Xbox Wire blog.